From Schalke 04 to Rogue, blue seems to be Odoamne's color.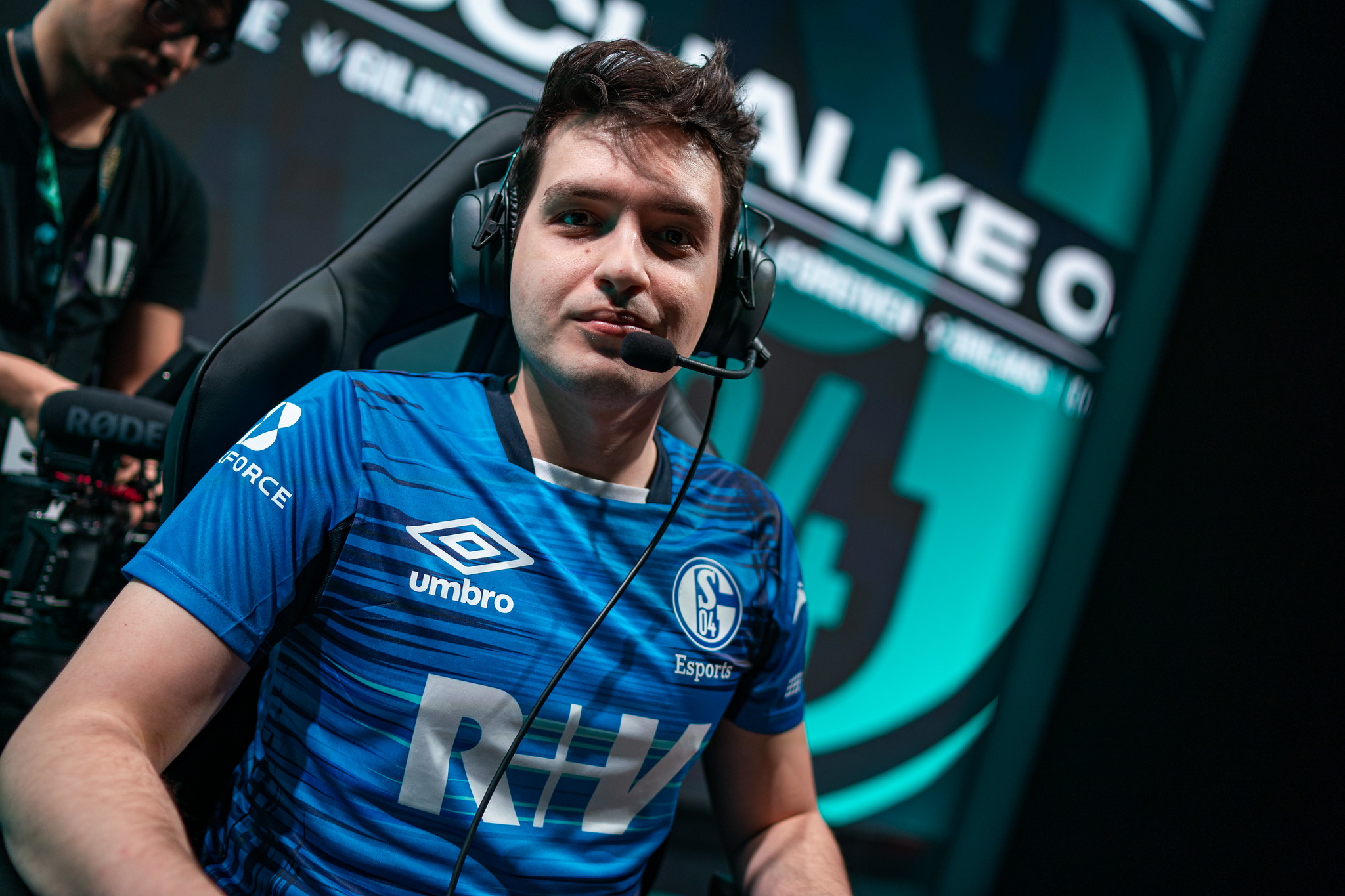 As one of the LEC's most established veterans, Odoamne has seen every high and low the competitive League of Legends scene has to offer, from a World Championship semifinal appearance with H2K in 2015 to a 0-8 Summer Split with Schalke 04. Now, he's found himself in yet another blue jersey—but this time, with Rogue.
Coming into 2021, Rogue are at the start of a potential redemption arc after attending their first Worlds in 2020 only to be drafted into arguably the tournament's toughest group. They failed to make it out of the group stage, but the development project that was Rogue's rookie roster is far from over. Last year was their best domestic showing since the org's entrance into the LEC in 2017. The departure of top laner Finn and support Vander, though, left two gaping holes in what had been a fairly successful roster, leaving fans concerned as to who would step up to fill those spots.
In came Odoamne off the back of one of the strangest splits in LEC history. The "Schalke Miracle Run" became one of 2020's most fascinating storylines, but Odoamne felt that Rogue was "an interesting project" where he could "work with people who can enable [him] more," rather than the isolated role he was often pigeonholed into on Schalke.
Odoamne talked with Dot Esports about the move and the state of rookie talent in the EU scene. He was full of praise for Rogue's roster, which has offered one of the best examples of talent cultivation in the LEC in the past few years. In particular, he looked to jungler Inspired as being "kind of like a baby Jankos"—high praise indeed for any LEC jungler and particularly for one as young as Inspired. 
No country for old men
Odoamne will be joined in Rogue's class of 2021 by support Trymbi, who freshly graduated from Rogue's Academy team, AGO Rogue. He, alongside Rogue's entire Academy roster, will make his debut in the LEC this year, marking yet another wave of rookie talent joining Europe's top tier of League competition. As a region, the LEC has often been praised for its pipeline of growth for younger competitors. But for the region's veterans, it's a more complicated issue than simply making way for new players. 
There are clear positives to the introduction of young talent and Odoamne accepts that not just "reshuffling old players" can be beneficial "in the long term." But he highlighted issues that can come with this constant turnover of talent, citing the retirement of top laner Visicasci in 2019 as being the fault of organizations that "just wanted to get rookies and kind of save budgets in a way." 
The readily available young talent in Europe's Emerging Region Leagues has the potential to be the secret to the LEC's international success. But it also has the potential to create an unstable environment in which longevity and legacies are forgotten. 
The key, according to Odoamne, is being willing to sacrifice a year's performance and not giving up on "slow learners and slow growers." Vocalizing a worrying trend that's been seen in the LEC over the past few years, he explained that the most common trend in acquiring rookie talent is that teams fail to give them the time they need to grow. They'll replace players over and over again and expect different results, according to Odoamne, and "it's going to be this constant cycle of the LEC being a bit downgraded."
But there are clear positives to the high turnover of talent in the LEC. One of the most important is the motivation it provides to preexisting players. "For me as a veteran, it kind of lights a fire under me," Odoamne said. "Because if I don't perform to my limits, there's always the chance that I just take the boot."
Complacency has always been the thief of achievement and a surefire way to drive out complacency is to know that there's always somebody ready to step up and take your spot if you're not showing the same drive as before. Veteran players "still have to find ways to get better," Odoamne said, and the nature of League as a constantly evolving game means its players must constantly evolve too.
Looking forward to spring 2021
Not every team has been hyper-focused on acquiring rookies this offseason, however. G2 Esports' infamous roster moves have monopolized the conversation leading into 2021. But are they going to be as dominant as fans think? According to Odoamne, possibly not. 
"I feel like skill-wise, they will definitely be better, but I'm just not sure if they can reach their ceiling," he said, with Perkz's departure removing the "element of leadership and coaching for the whole team" that was so crucial to G2's previous successes. The changes in dynamic within a team are almost as important as changes in gameplay. And with Rekkles joining the team, "every player has a different responsibility when it comes to reviewing and strategy," Odoamne said. If G2 are going to win, they'll be doing it with no rookie players.
Being a professional player offers a unique insight into the offseason that few fans are able to access. In regard to the team dynamic of G2 and the effects of these roster changes, Odoamne explained that Perkz was a hands-on player in the G2 lineup, evidenced through his communication in-game. Although Rekkles is arguably a more skilled AD carry, he's "not as hands-on as Perkz was—he prefers to be there for the process and just kind of not involve himself or be as hands-on," according to Odoamne. He's one of the now-rare cases in the LEC where a veteran is replaced by another veteran, but the overall effect of the trade is similar. G2 are losing an established shotcalling talent in favor of a more mechanically gifted player in the role—the same kind of trade that's seen players like Visicasci left without a team. 
The LEC looks a lot different this year, but Odoamne doesn't think the top four will change all that much. Although he sees Fnatic's new roster as "hit or miss," he seems confident that nothing too dramatic will take place toward the top of the standings. "G2, Fnatic, Rogue, and for the fourth I'm honestly not that sure," Odoamne said. "I don't think any teams made huge upgrades this year.'" 
His only hope is that this isn't the year Schalke finally make their miracle run. "The year I left Splyce, they made it to Worlds, and it'd be kind of crazy if the same thing happened again with Schalke," Odoamne said. 
The 2021 LEC Spring Split will start on Jan. 22. Rogue will face off against Excel Esports, Fnatic, and SK Gaming in the first week of the season.
Make sure to follow us on YouTube for more esports news and analysis.
Source:
Read Full Article