It's not even the end of the month, but Xbox Game Pass is back with yet more game announcements. Two games already added to the console and PC versions of Game Pass now have cloud versions available if you'd rather not download them, and several more games are getting released on Game Pass for the very first time.
F1 and Need for Speed Hot Pursuit Remastered are already on Game Pass, but now you can play them through cloud streaming, allowing you to race on your phone, tablet, or even your Steam Deck if you're willing to jump through a few technical hoops. Both are available for streaming as of today.
Another game out today is Turnip Boy Commits Tax Evasion, a 2D Zelda-like adventure game that puts you in control of the titular turnip. Committing tax evasion in the world of Turnip Boy involves harvesting crops, exploring dungeons, solving puzzle, and killing monsters, and then not reporting your loot to the relevant tax authorities. Turnip Boy is available on console, PC, and the cloud versions of Game Pass.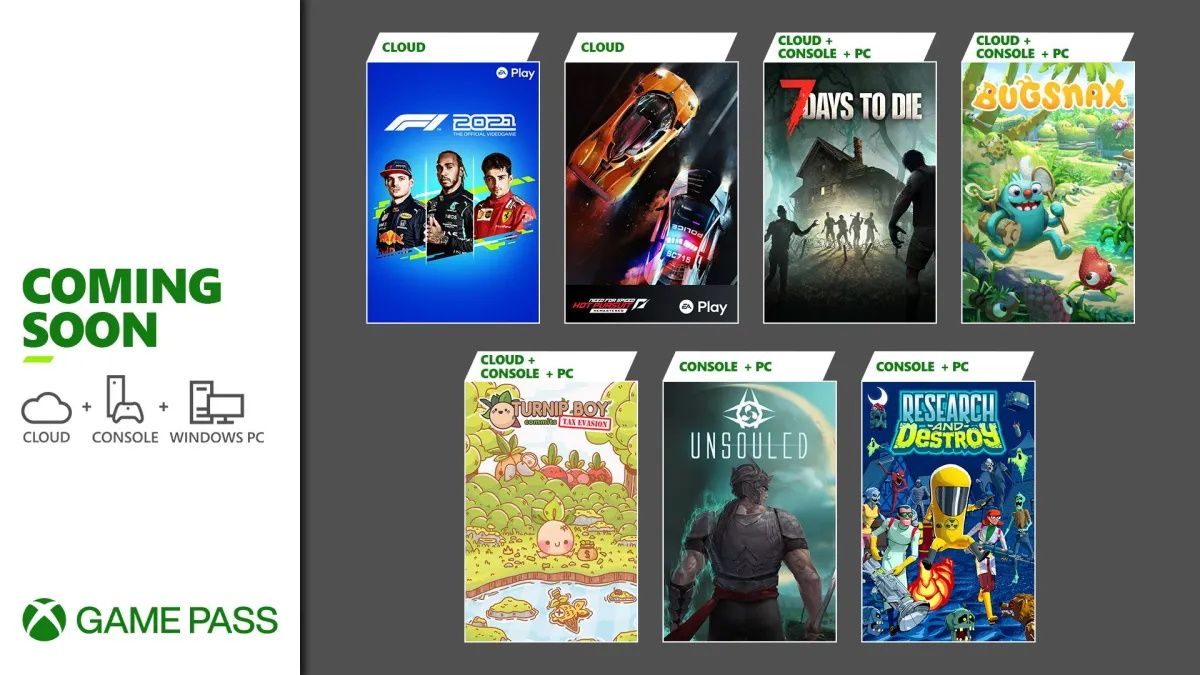 On April 26, open-world zombie survival game 7 Days to Die arrives on Game Pass courtesy of [email protected] The game's name comes from the time you have to prepare your defenses against a zombie horde. Use your time to build traps and gather weapons, or piss it away and get bit. 7 Days to Die comes to console, PC, and cloud Game Pass.
For the first time, Bugsnax escapes the PlayStation and hits Xbox consoles on April 28. This first-time release on Xbox also includes a day-one launch on Game Pass (PC, console, and cloud) and also comes alongside a brand new DLC, The Isle of Bigsnax.
And finally, Unsouled is getting it's early access release on April 28, which is coincidentally the same day it arrives on Xbox Game Pass (cloud, PC, and console). A 2D soulslike that promises a break from "repetitive attack and dodge action," Unsouled has gotten some pretty good reviews over on Steam and seems the perfect fit for Game Pass.
Ubisoft is also expanding its presence on Game Pass in the coming months with two more games: Assassin's Creed Origins and For Honor: Marching Fire Edition. Both will arrive on cloud and console versions of Game Pass, with the PC version requiring Ubisoft Connect.
Source: Read Full Article