As with pretty much everything, 2020 took a toll on the football season as well. All 2019 – 2020 domestic and international matches were called off due to the ongoing Covid-19 pandemic. Fans were left to play out the rest of the season via FIFA 20 and 21. However, despite cases rising the world started opening up, and football came back to our TV screens, even with the occasional player contracting the virus.
Games were being played in empty stadiums, without the crowd atmosphere that football is so well known for. The fact that you could hear players and the coaching staff yelling instructions gave fans the feeling that they were watching a Sunday league game. To combat this, some broadcasters even approached FIFA for recorded crowd noises and iconic chants from various stadiums. And so ended the 2020 season, a rather irksome season for anyone who wasn't a Liverpool fan. Despite everything the fans, the sport, and of course, the world went through, it's the time of the year when we pick the best players of the year in the EA Sports FIFA 21 Team of the Year poll.
Of course, I don't need to tell you how it works; all you need to do is go to the voting page and drag-drop the player you'd like to vote for into a 3-3-4 templated lineup. The results of the poll will be announced later in January, when "special TOTY player items featuring some of the highest ratings of the season will be released in FUT 21 to celebrate each player's incredible performances."
A total of 70 nominees have been chosen from football leagues all over the world, and categorized into Goalkeepers, Defenders, Midfielders, and Attackers. This fixed 3-3-4 template unfortunately does not give you the opportunity to customize your formation, or swap players around depending on who you want to vote for. For instance, you can only vote for three attacking players, and you can't slot said attacking player into a midfield slot. So, let's say you want to choose four attackers: Haaland and Kane up front, with Ronaldo and Di Maria on the wings, you can't do that. This is going to make it tough for those who intently follow different leagues and gauge player performances.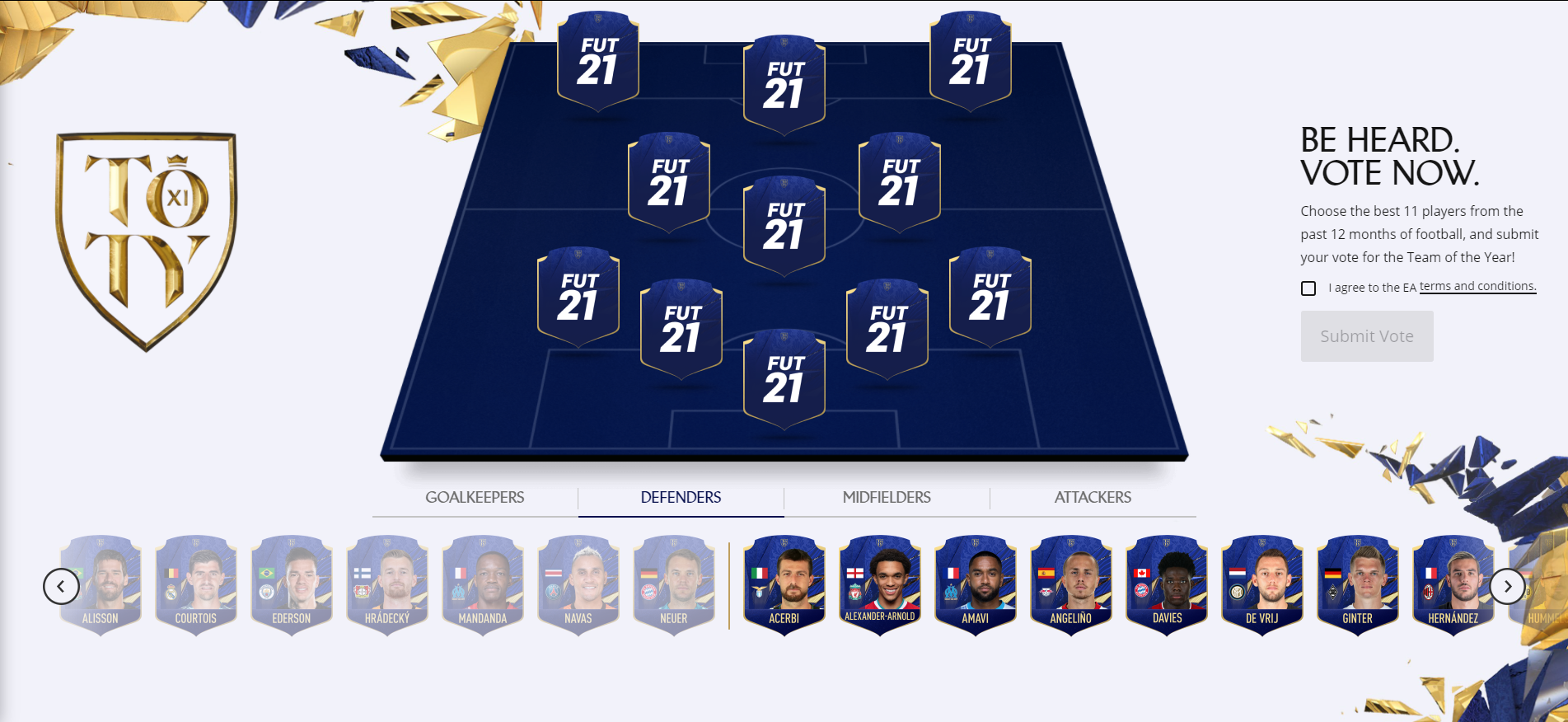 The Goalkeeper nominees include the likes of Alisson and Ederson from English clubs, Liverpool and Manchester City respectively. As always, Bayern Munchen's Manuel Neuer has made it to the list. Lukáš Hrádecký from Bayer 04 Leverkusen and Steve Mandanda from Olympique de Marseille have also made the cut.
Liverpool's talismanic Virgil van Dijk is a clear favourite in the Defenders list. He is joined by two of his team mates, Trent Alexander-Arnold and Andrew Robertson. As much as I hate to admit it, 2020 was truly their year. Real Madrid's Sergio Ramos was always going to feature on the list; he is joined by Jesús Navas and Jordi Alba from the La Liga.
Manchester rivals, Bruno Fernandes and Kevin De Bruyne from United and City respectively are the stand-out names in the Midfielders list. De Bruyne has been considered one of the best players in the Premier League for a while now; and everyone can see the difference that Fernandez has brought to Manchester United this season. Atalanta boys, Alejandro Gómez and Robin Gosens have done well to make it to the list, but it looks like the Premier League might dominate the midfield with Tottenham Hotspur's Heung-Min Son in the mix as well.
The Attackers list has the usual Messi, Ronaldo, Lewandowski, and Neymar. Inter's Romelu Lukaku was a transformed man after his shift from Manchester United, his performance got him a place on the list. Southampton and Aston Villa have managed to squeeze into the category via Danny Ings and Jack Grealish. And of course, Jamie Vardy is havin' a party on there too.
Make sure you check out the full list of nominations here, and pick out your EA Sports FIFA 21 Team of the Year. Voting closes on January 18.
Besides a bad TOTY template FIFA has constantly been under the microscope thanks to the FIFA Ultimate Team mode. Certain countries have clearly stated that the transactions made to purchase FUT cards count as gambling. Belgium and the Netherlands have even reclassified the status of EA's lootboxes, officially declaring them gambling.
With that in mind, EA recently released a patch that blocks players in certain countries from using Ultimate Team. The code added with this patch will leave players in those countries an error message and won't allow them to access FIFA Ultimate Team. The message reads, "FIFA Ultimate Team is currently not accessible due to a demand from the authorities of your region." While this code has been implemented and discovered, there have been no reports of anyone actually encountering the message itself.
A number of countries have been debating this matter. Whatever may be the case, FIFA isn't taking this lightly, and seems to be prepared for any eventuality.
NEXT: 10 Best Teams To Start A Career Mode With In FIFA 21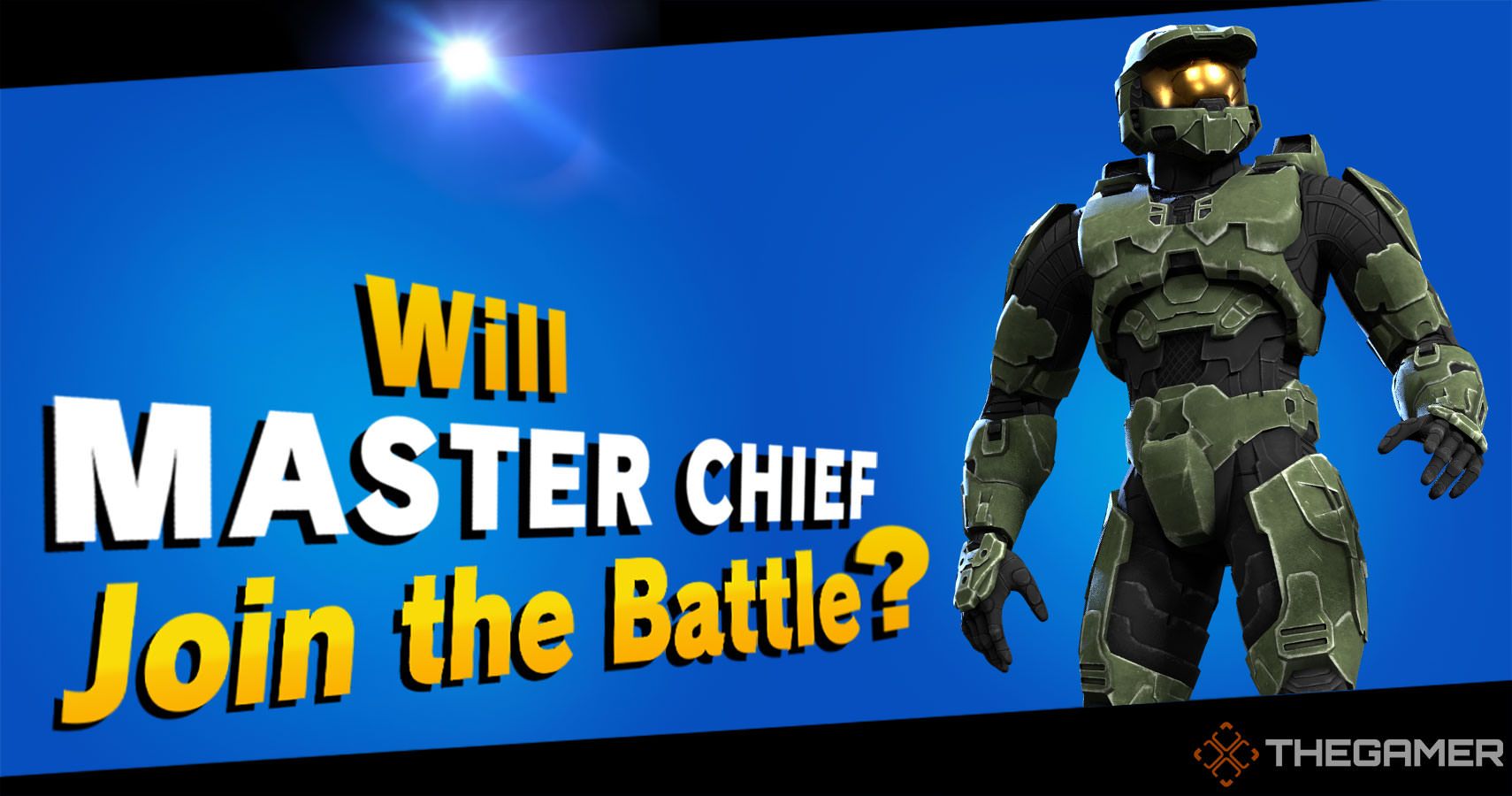 Game News
EA Sports
Fifa 21
Source: Read Full Article