The ability to switch between sitting and standing at a desk has become increasingly popular in recent years, be it a workspace or somewhere to relax. As such, more and more companies are introducing electronic standing desks to the market, but with so much variation in build, quality, and – most importantly – price, it can be hard to decide whether it's worth it.
FlexiSpot has a few standing desks to choose from, each with varying designs and costs, with features and quality differing as expected. With the FlexiSpot Q8 8-In-One Standing Desk, everything you could need from a desk is packed into a sleek, modern design befitting any home office space. With the choice of white or black metal, this desk will serve its purpose in a minimalist style.
We have previously reviewed a few different desks and products from FlexiSpot, but the Q8 is clearly the culmination of everything the company has learned over the course of production, and it makes for a desk I keep finding myself appreciating, both aesthetically and functionally. With a cost set at £699.99, it will set you back a fair bit – but for what you get, it might just be worth the investment.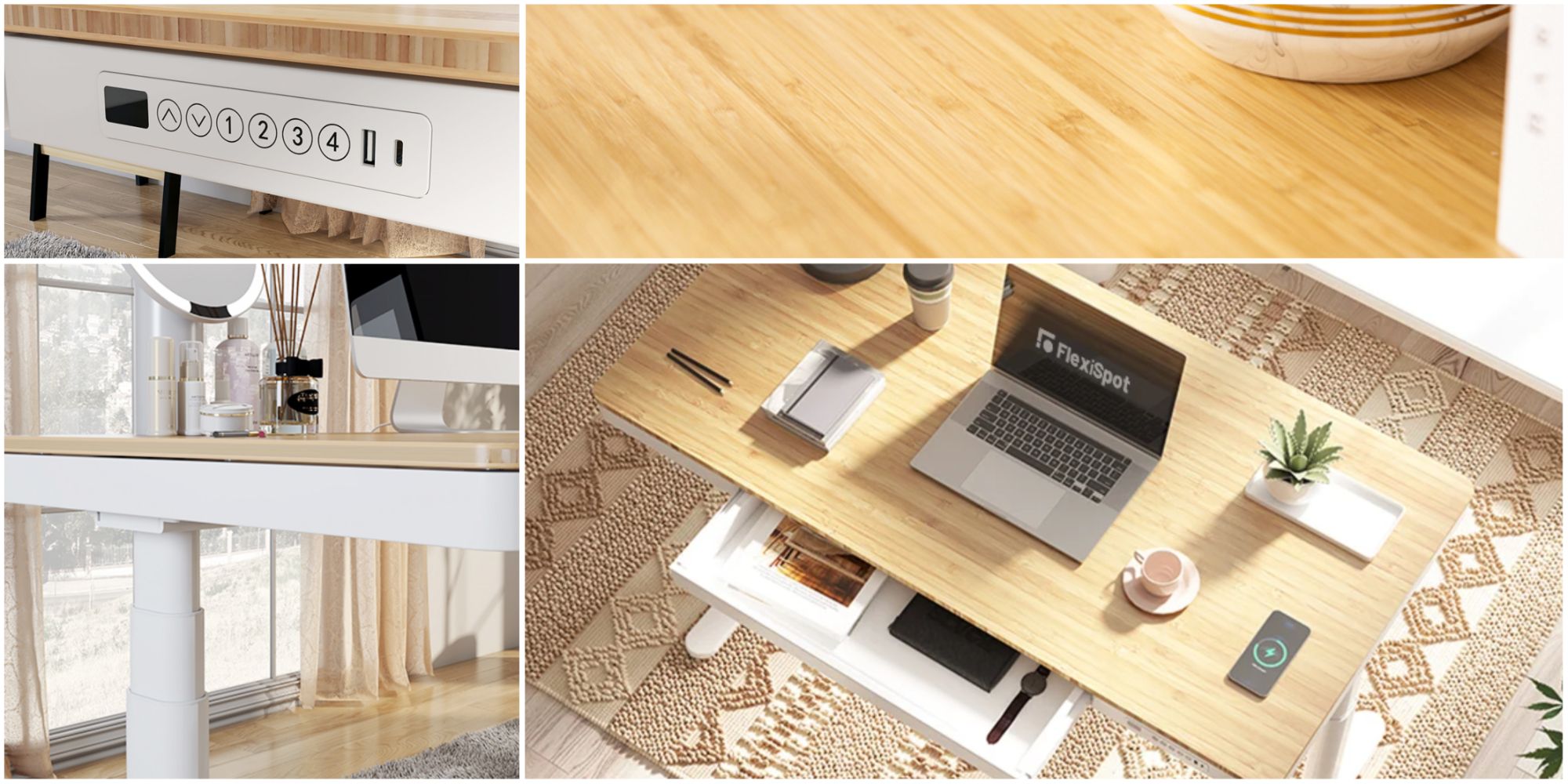 Before you can play around with your fancy new desk, you need to assemble it – with furniture, this can sometimes be the most stressful part, but with the Q8, it's straightforward. The packages are quite heavy, so keep that in mind as you will likely need assistance to move the components, but from there, the setup is nice and easy. With everything provided and step-by-step instructions that are clear to follow, the desk itself can be up and running in a short amount of time, taking me about 15 minutes to assemble it alone.
The FlexiSpot Q8 Standing Desk features an overall impressive build quality, with a bamboo wood surface, sturdy metal for the frame, and new and improved rounded legs to support the desk itself. Each of the legs includes a motor for height adjustment, both of which plug into the power controls underneath. The worktop itself is large enough to house my monitor stand, laptop, D&D books, way too many notebooks, controllers, and all of the clutter I promised myself wouldn't build up.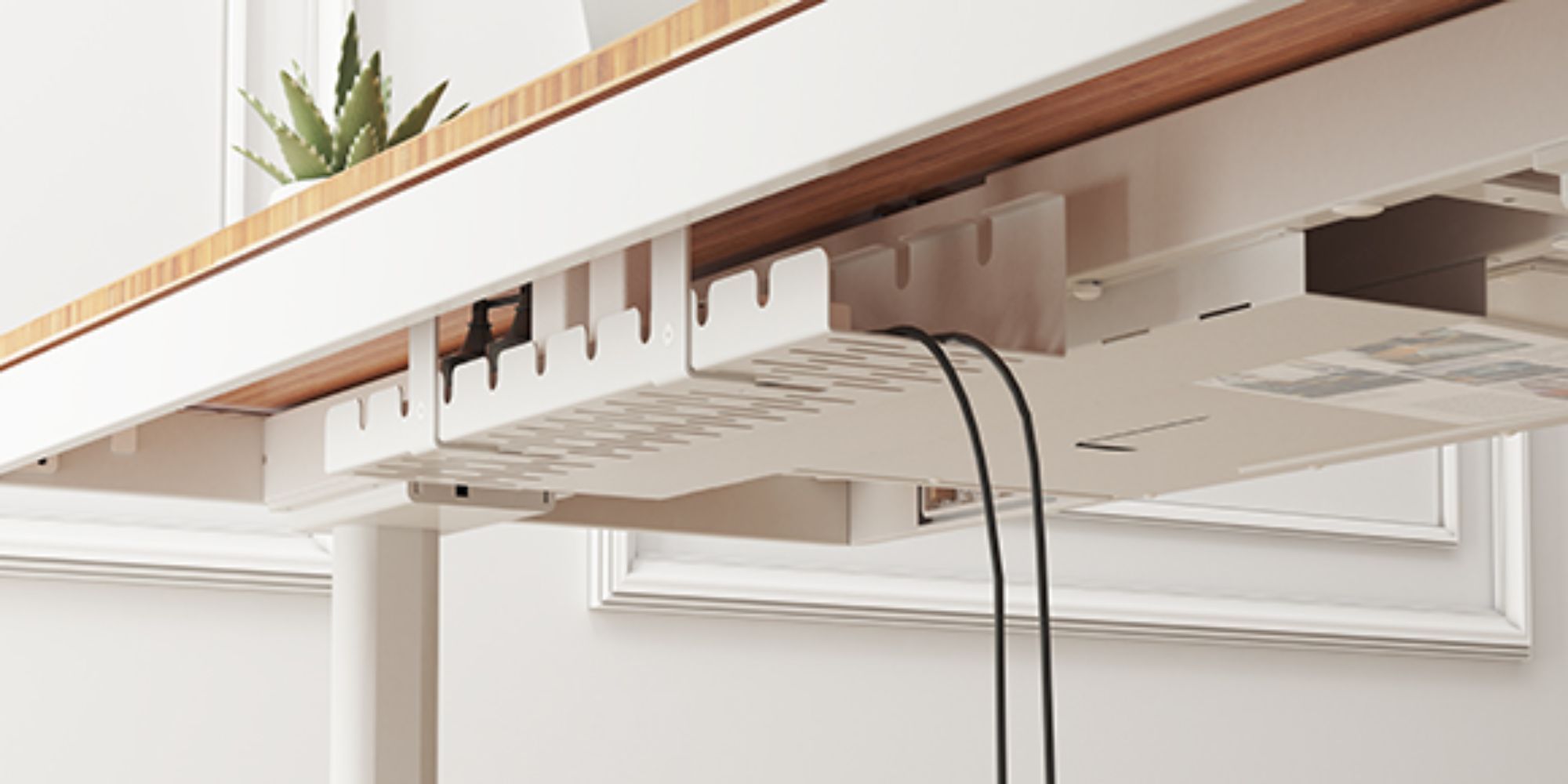 There is also an attachable cable management tray that sits underneath the desk, allowing you to run cables through it and out through metal slats in the back in order to keep everything looking tidy. With so many cables for monitors, peripherals, and who knows what else all these wires lead to, I appreciate the cable management options greatly, making everything neat and unanimous in its appearance. When moving to a standing position, this also means that the cables aren't being pulled out of my PC or shifting, as they're fixed into their slats and remain organised. Lovely.
There are four programmable buttons on the front of the desk, along with manual buttons for height controls. Each of the four buttons can be programmed to a specific height, meaning you and any other users are able to have preset heights for both sitting and standing positions. The desk itself is 24 inches at its lowest (recommended for shorter people) and 49.2 inches at its highest (recommended for you basketball players out there), so it will adapt to the majority of users. It also features collision detection, automatically stopping the desk before it hits something.
When in a standing position, the size of the desk works even better for comfort. With plenty of depth and precise adjustability, the desk is easy to stand at for long periods of time. The depth means you have room to comfortably rest your arms while using a mouse and keyboard, or have plenty of space for a laptop, tablet, and all those notebooks while you work away on projects. I have even had it set up with D&D equipment: a DM screen and multiple books spread across the worktop with plenty of space for rolling all those low d20s too, while the PC peripherals have space to be easily set aside at the same time.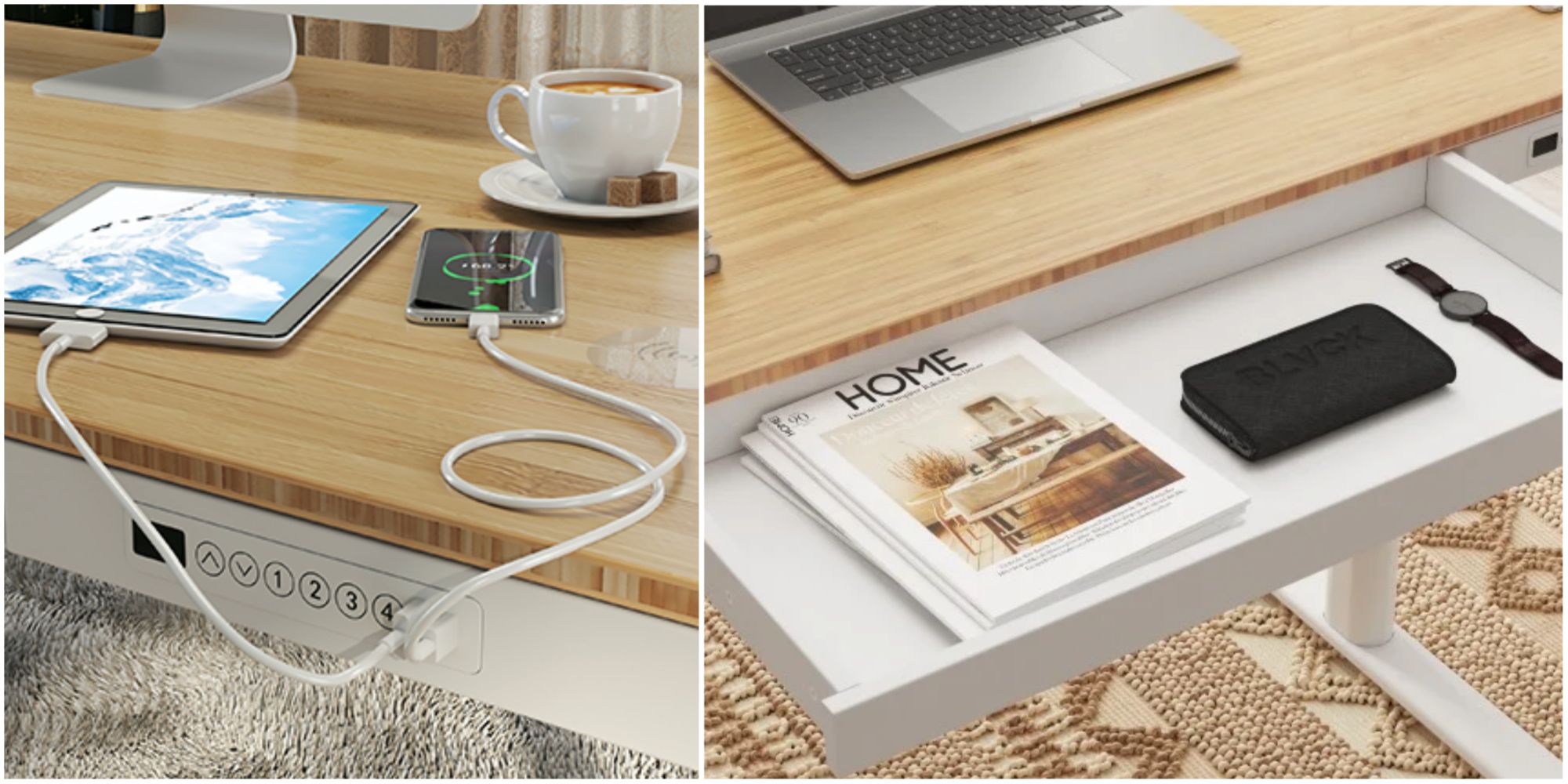 Alongside the controls on the front of the desk are charging ports. The Q8 features a USB-A port and a USB-C port that both support fast charging for mobile devices. Additionally, the desk has a wireless charger built into it, so you can easily place your phone down on the worktop and charge it up, leaving the USB ports available.
The desk also features a compact drawer that, while blending neatly with the overall design of the worktop, can house a standard laptop as well as other peripherals, gadgets, stationery, and paperwork. Mine is already full of pens, paperwork, scissors, batteries, and just about everything else I like to have around just in case but don't want to spend eight hours a day looking at in a little pot, taking up worktop space where I could store even more notebooks.
Whether your primary use is gaming, working, or a mixture of anything else, the FlexiSpot Q8 is an ideal desk for just about any use case. The quality speaks for itself, with the bamboo wood surface feeling smooth and sleek and the framework sturdy and durable. Having used a FlexiSpot desk in the past, I feel confident in the long-term use of the Q8, and can easily recommend it to anyone looking for a solid standing desk. With a price tag of £699.99, it's certainly not cheap – but it is worth it.
The FlexiSpot Q8 Standing Desk Was Provided To TheGamer By FlexiSpot For Review.
Source: Read Full Article