Quick Links
GTA: San Andreas introduced many new mechanics to the GTA series that have since become staple features. These include the introduction of car customization as well as the ability to mix and match different pieces of clothing items. One of the things introduced was the ability to romance different girlfriends.
There are six girlfriends that protagonist CJ can date across San Andreas' map. Some are found through the game's story while others you'll have to go out of your way to find. The girlfriends in San Andreas also each have their unique taste in men that will affect your ability to date them. It is also important to note that the girlfriends of San Andreas can be dated regardless of body type but only if you have a maxed-out sex appeal or you've collected all oysters. Here is where you can find each girlfriend and how you can date them.
Denise Robinson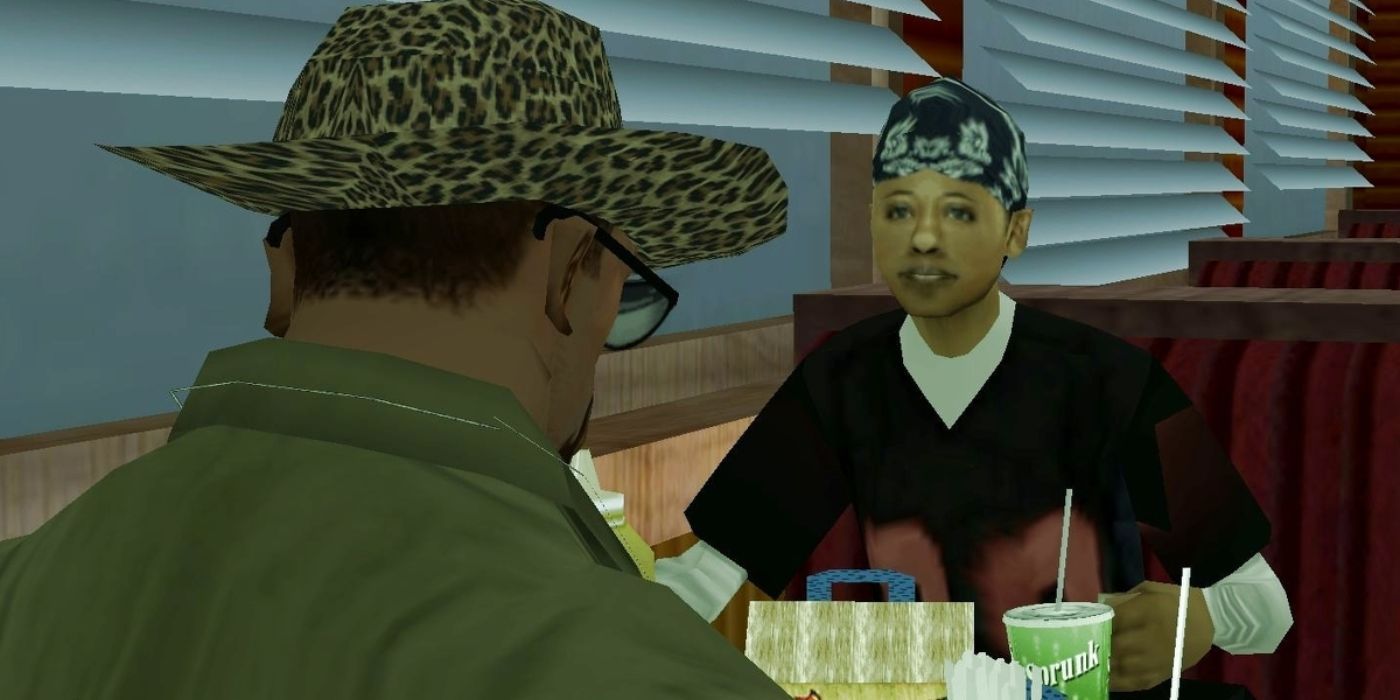 Denise is a girl who likes to live on the dangerous side since she has an obsession with the gangbanging lifestyle. She is also the first girlfriend you'll encounter in the game during the main story.
In order to date Denise, you first have to complete the "Burning Desire" mission for officer Frank Tennpenny, where you rescue her from a burning house. Once the mission is completed, Denise will be available to date at her house in Ganton, Los Santos, which is marked with a red heart.
Denise has no requirements to date her meaning you can be in any body shape imaginable to date her. As for what she likes, she likes performing drive-bys of other gang members around Idlewood as well as frequenting Cluckin' Bell, Well Stacked Pizza Co., and Ten Green Bottles. CJ can date Denise any time between 16:00 and 6:00.
Helena Wankstein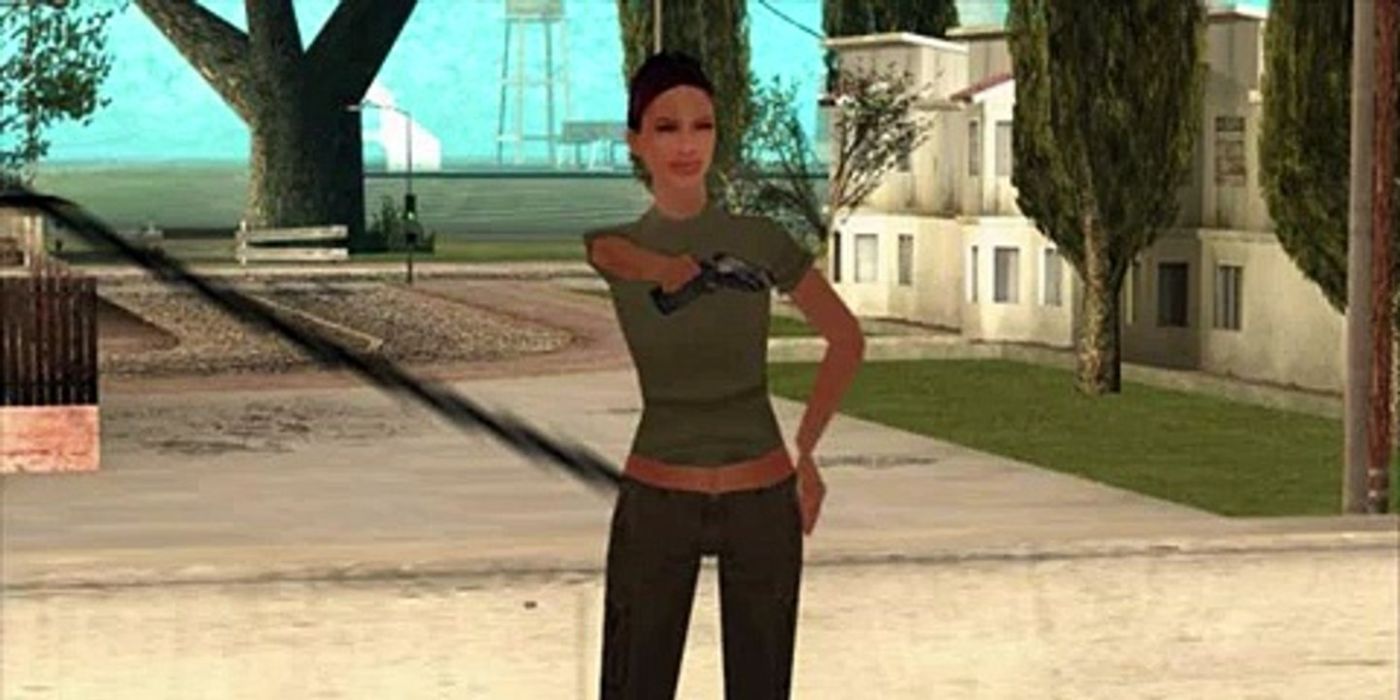 Once you're introduced to Red County and the area immediately outside of Los Santos, you will be able to find Helena Wankstein. She is a country girl who likes the occasional flamethrower or two and getting her to like you enough will give you access to her tool shed that hides a flamethrower as well.
Helena is also the first girlfriend in San Andreas that has to be tracked down in order to date her. You can find her next to the Ammu-Nation in Blueberry, Red County shooting targets. She prefers men that don't exceed a muscle stat of 20 percent. Once she accepts you as her boyfriend, her house can be found at a farm in Flint Range, Red County.
Helena prefers if you don't drive too fast in your car, likes it when you take her out to eat in restaurants, and doesn't mind the clubs in Los Santos or San Fierro. Helena can be dated between 8:00 and 12:00 as well as between 14:00 to 2:00.
Katie Zhan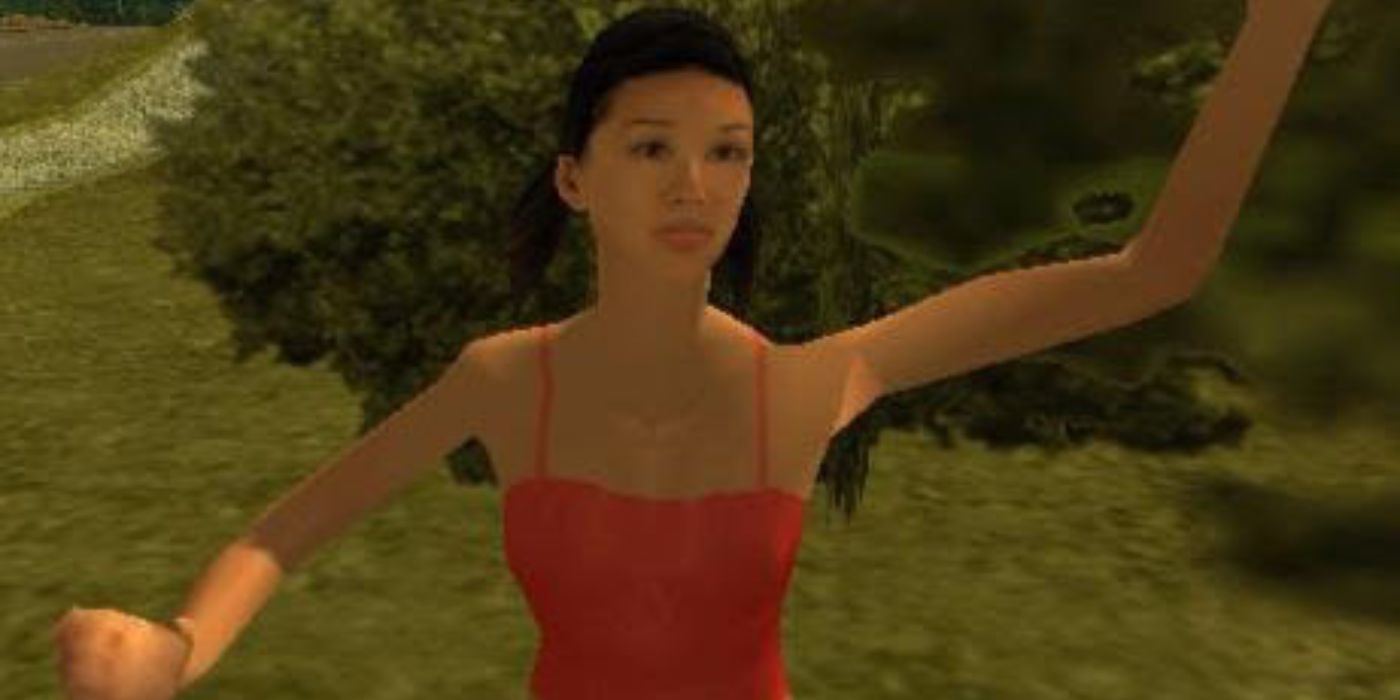 The first of two girlfriends that can be found in San Fierro, Katie Zhan is an ER nurse who will be able to get you out of hospitals with all of your weapons still available after dying. An absolute must in the game even if you don't like Katie as a character.
She can be found at the golf course near the Cobra Martial Arts Gym in the Garcia district of San Fierro. Katie likes her men with plenty of muscle so be sure to have a muscle stat of at least 50 percent. Once she agrees to be your girlfriend in San Andreas, her house is located in the northern part of San Fierro in Juniper Hollow and she can be dated between noon and midnight.
Katie likes to hang out in diners and when you drive close to the beach on the west part of town. If you're a bad driver, have no fear as she oddly finds hitting cars thrilling.
Michelle Cannes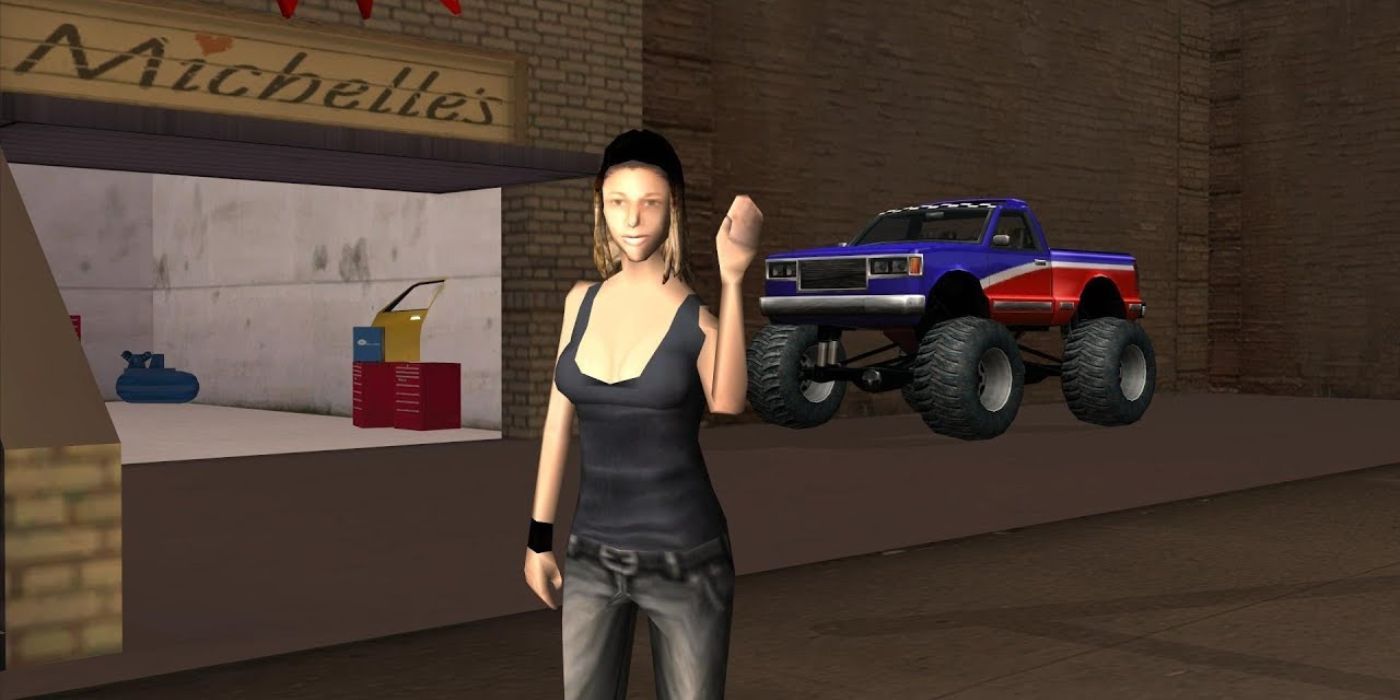 Speaking of driving cars, the other girlfriend in San Fierro, Michelle Cannes, has had a passion for cars for her whole life and she even has her own mechanic shop in Downtown San Fierro where you can find her once you agree to start dating her.
As for where you can find her, Michelle can be found in the San Fierro Driving School next to the water cooler near the back of the school's interior. The prerequisite to date her is that CJ must have at least a 50 percent fat stat.
Michelle can be taken on a date anywhere between midnight and noon. She also prefers if CJ drives fast to bars and likes it if you drive in the Gracia and Doherty districts.
Barbara Schternvart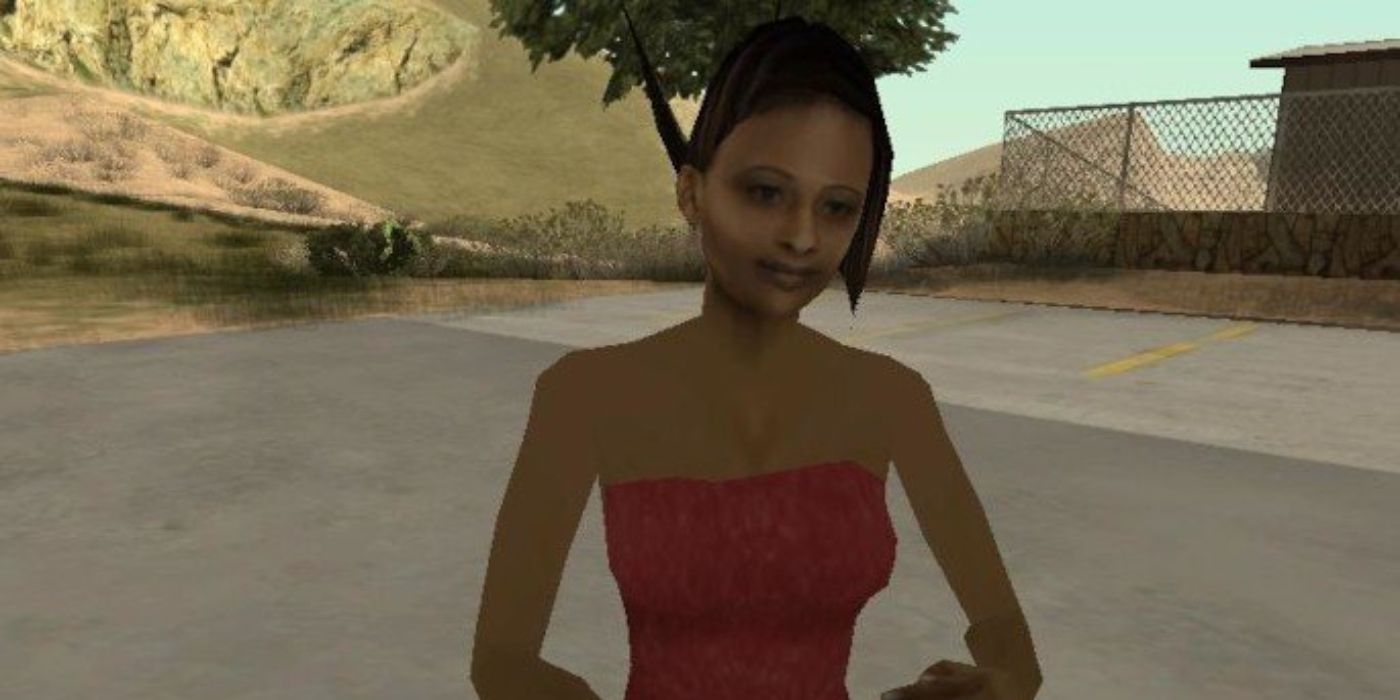 Surprisingly, CJ can date a cop in San Andreas and that cop's name is Barbara Schternvart. She patrols the deserts outside of Las Venturas, is divorced, and has two children. Despite this though, she has the ability to let CJ keep his weapons if he gets arrested, so that alone is a reason to date her.
Barbara prefers her men with a high fat stat and can be found outside of the El Quebrados Sheriff Station in Tierra Robada. Oddly enough, she can also be picked up for dates at this location as well.
She will be ready for dates from midnight to 6:00 or occasionally between 14:00 and 20:00. Eating at diners is the ideal meal date for Barbara as doing so will increase her affection. She also likes it when CJ drives around the El Quebrados area at the same speed as regular traffic.
Millie Perkins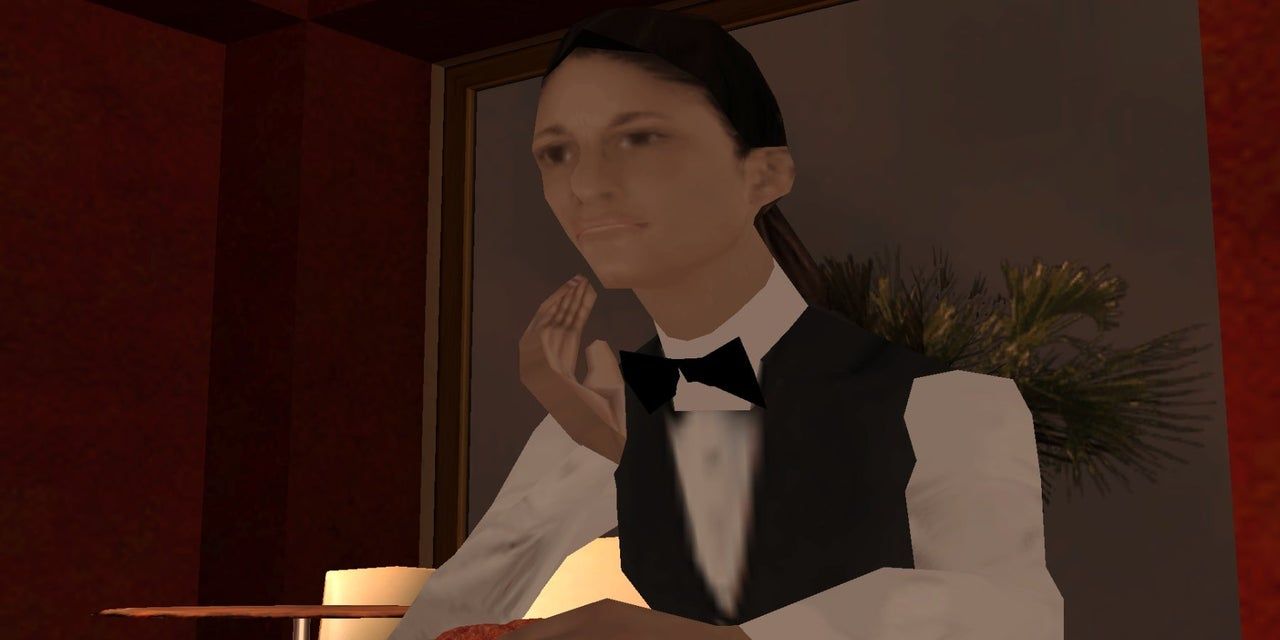 The sixth girlfriend in San Andreas is Millie Perkins, who works at the Caligula's Palace casino in Las Venturas as a croupier. Similar to Denise, she is encountered through the main story since CJ and Woozie need her keycard in order to rob the casino.
To begin dating Millie, you first have to complete the "Key to Her Heart" mission where CJ poses as her gimp for a BDSM date. After that, she can be found at her house in the Prickle Pine district of Las Venturas, which you go to during the mission. She's not too picky about body types either but doesn't like it if CJ has a high fat stat.
Millie can be dated anywhere between 12:00 and 22:00 and likes to eat out at bars and restaurants. She also prefers you drive at an average pace. Once you get enough affection from her, she will give you the keycard needed for the Caligula's Palace heist.
Source: Read Full Article