Games Workshop has pulled no punches this past weekend, as the next chapter of its fantasy epic tabletop game Warhammer Age of Sigmar has hit the shelves. You will also find pre-orders for this year's Christmas model of the immortal barman Jakkob 'Bugman' Bugmansson XI – Brewmaster-General and purveyor of fine ales.
Warhammer Age of Sigmar
The eagerly awaited next chapter of GWs fantasy saga Warhammer Age of Sigmar is upon us following the release of the debut book in the new Broken Realms series. Morathi is not just the name of the first tome, but also that of one of the powerful Aelven priests that survived the World That Was. Allying with Sigmar, the powerful yet contentious Morathi has maintained an uneasy truce. She has survived only through cunning and devious means. She has always had a thirst for power, having conspired in a past life to put none other than the Shadow King Malerion onto his dark throne. She also spent a time as high-priestess to Slaanesh, one of the gods of Chaos and immortal enemy of the Aelven peoples. Her allies have long known that Morathi is not to be trusted, but are we about to see her plotting and conniving behind their backs as she furthers her desire to become as powerful as the gods she used to serve?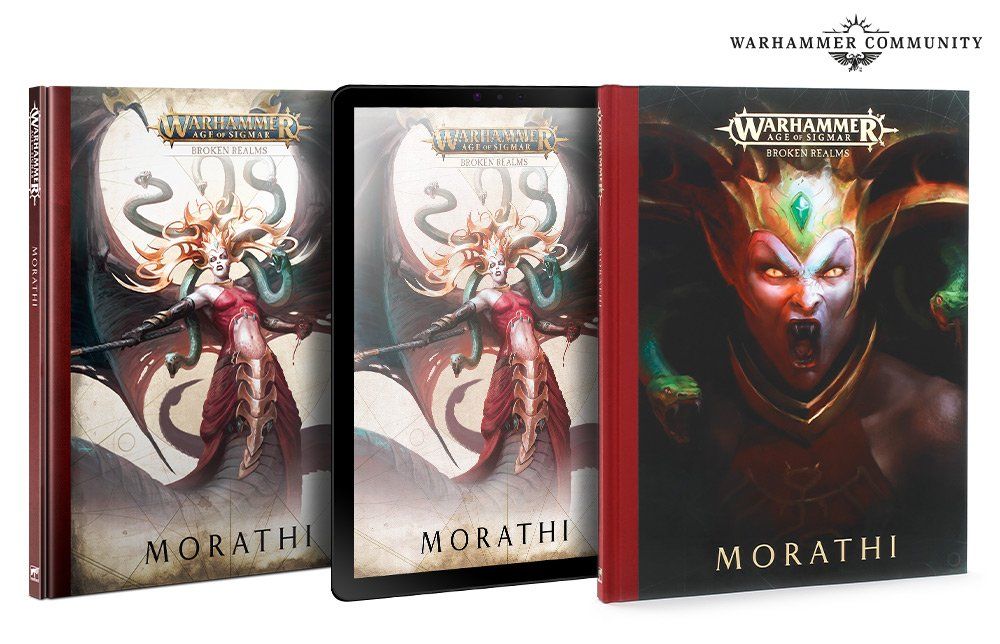 Broken Realms: Morathi marks the first major overhaul of Warhammer Age of Sigmar since the events of the Soul Wars, that ushered in the second edition. Broken Realms: Morathi furthers the narrative with detailed lore updates and a story that sees Morathi and her Daughters of Khain begins her journey to godhood while embroiled with her former friends and foes. If nothing else, this campaign sourcebook is an essential read for fans of Age of Sigmar lore; it sets the stage for what will no doubt alter the balance of power and shake the Mortal Realms to its very core. You will also find updated rules for the five factions and battleplans allowing you to relive many of the events contained as they unfurl. The Daughters of Khaine, Idoneth Deepkin, Slaves to Darkness, Stormcast Eternals, and Cities of Sigmar will never be the same again.
To support the Age of Sigmar Broken Realms: Morathi release, GW has dropped a new Battle Box full of miniatures that both newcomers and veterans of the game will love. Shadow and Pain has 38 models spread across The Daughters of Khaine and Hedonites of Slaanesh, including two previously unreleased models. You will also find a 40-page booklet that features all-new Battleplans, a Realms of Battle rulebook, as well as new Warscroll cards.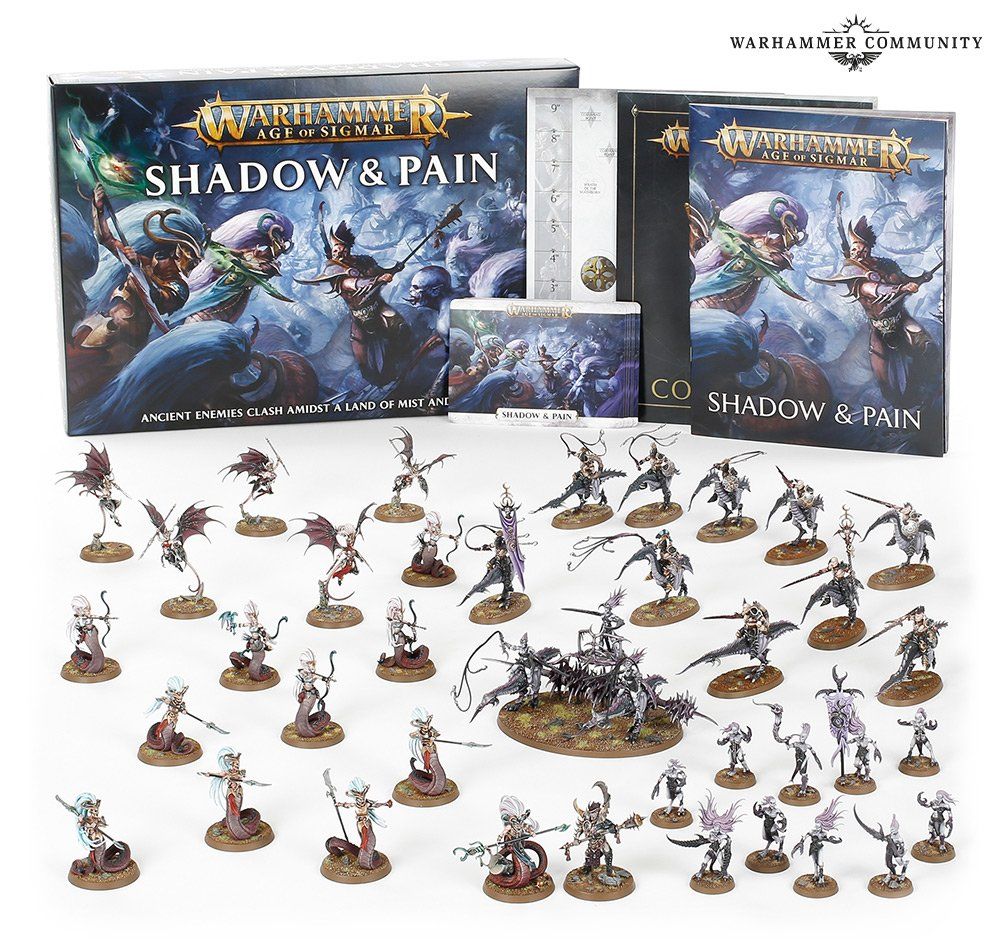 If that wasn't enough, there are four new miniature box sets, allowing you to recreate one of the legendary battalions featured in Broken Realms: Morathi. Choose between King Sythus Nemmetar, Drusa Kraeth, Keiser Ven Brecht, and Rokah Gresh; all sets include everything you need to field a battalion and can be used standalone or as part of an existing army.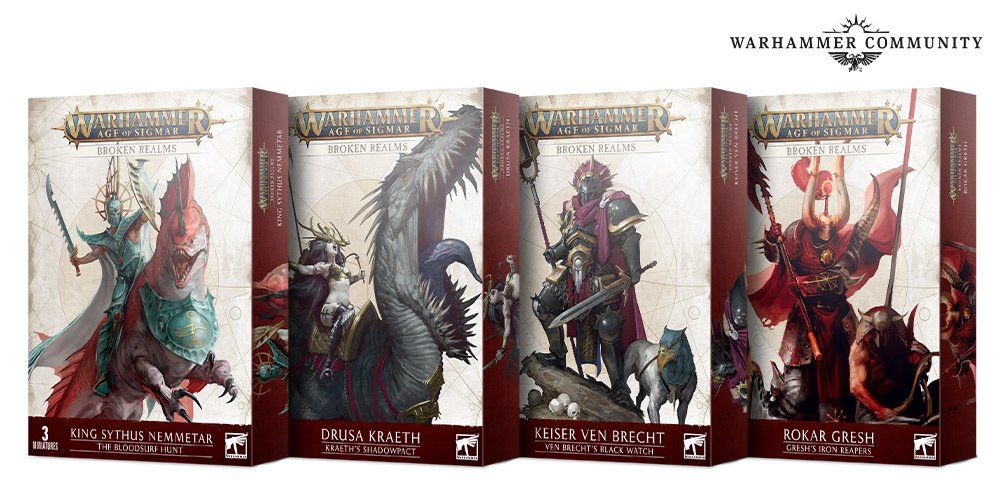 Age of Sigmar Broken Realms: Morathi promises to be an exciting release and will be in high demand. Preorders are open now with general availability from November 14, 2020.
Limited Edition Bugman Mini
Every so often GW releases a limited edition miniature, and this year is no exception. Hot on the heals of their limited Warhammer Day mini, Space Marines: Terminator Chaplain Tarentus, GW has announced the Christmas 2020 model. Long-time fans will recognize Jakkob 'Bugman' Bugmansson XI as Brewmaster-General and the purveyor of fine Ales at none other than Warhammer Worlds in-house tavern. The miniature comes as a multi-part kit that fits on a 32mm base and will make an awesome addition to your Kharadon Warlords army. Bugman will be available for purchase during November and December.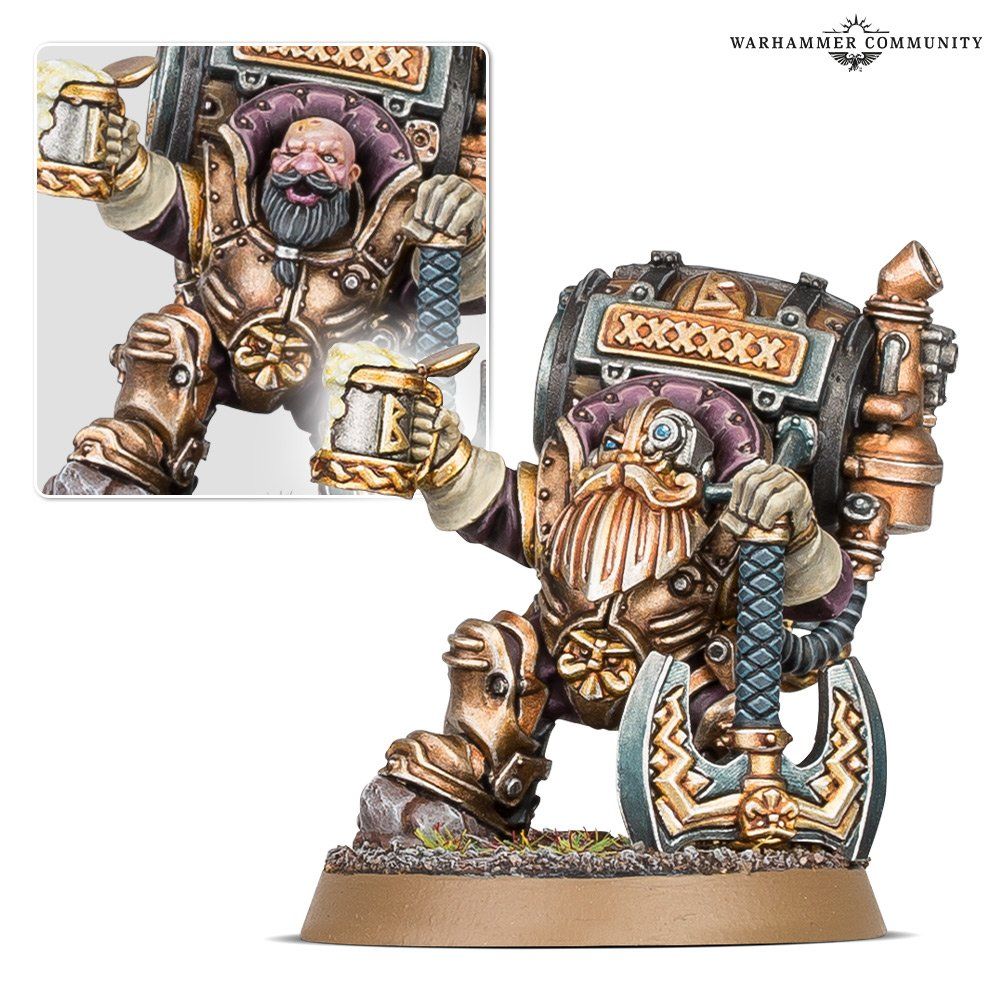 Warhammer 40,000 Releases
Fans of Warhammer 40,000, fear not! You are not left out this week with two new releases available for preorder. First up we have a deck of playing cards. To avoid confusion – these are regular playing cards but they feature artwork from some talented folks at GW. The backs of the card feature the Indomitus artwork while the face showcases the four suits: The Imperium, Adeptus Astartes, Chaos, and Xenos. Not to miss a trick, GW are using Aeldar Harlequins for the Jokers.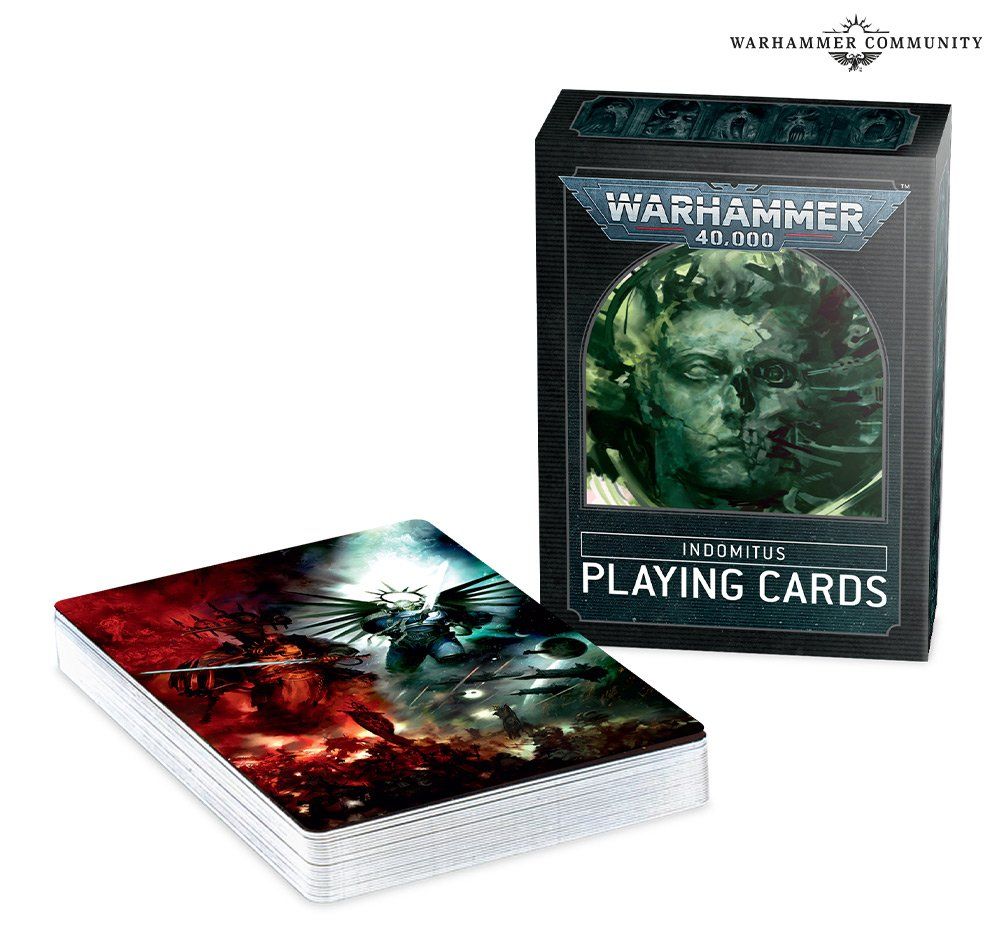 The popular blind bag mini is back for its third series with this release featuring Nurgle Plague Marines. There are six models to collect and can you can purchase them in individual bags or as a retail countertop display.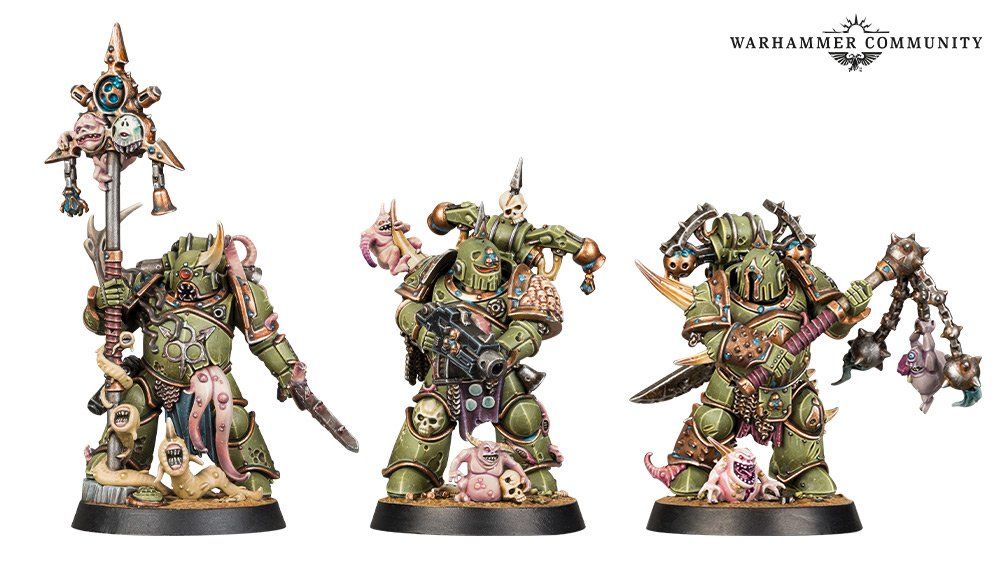 Blood Bowl Sneak Peek
Finally, we have a sneak peek at next week's preorders, and boy are we in for a doozy! Blood Bowl makes its return with the third edition of the game and a starter set that will make existing players jealous. The boxed game features two teams – The Imperial Nobles and Black Orcs, a new playing field, and new rules that include rosters for the 21 teams and 23 Star Players. We'll take a closer look next week, but there is one last surprise we want to share.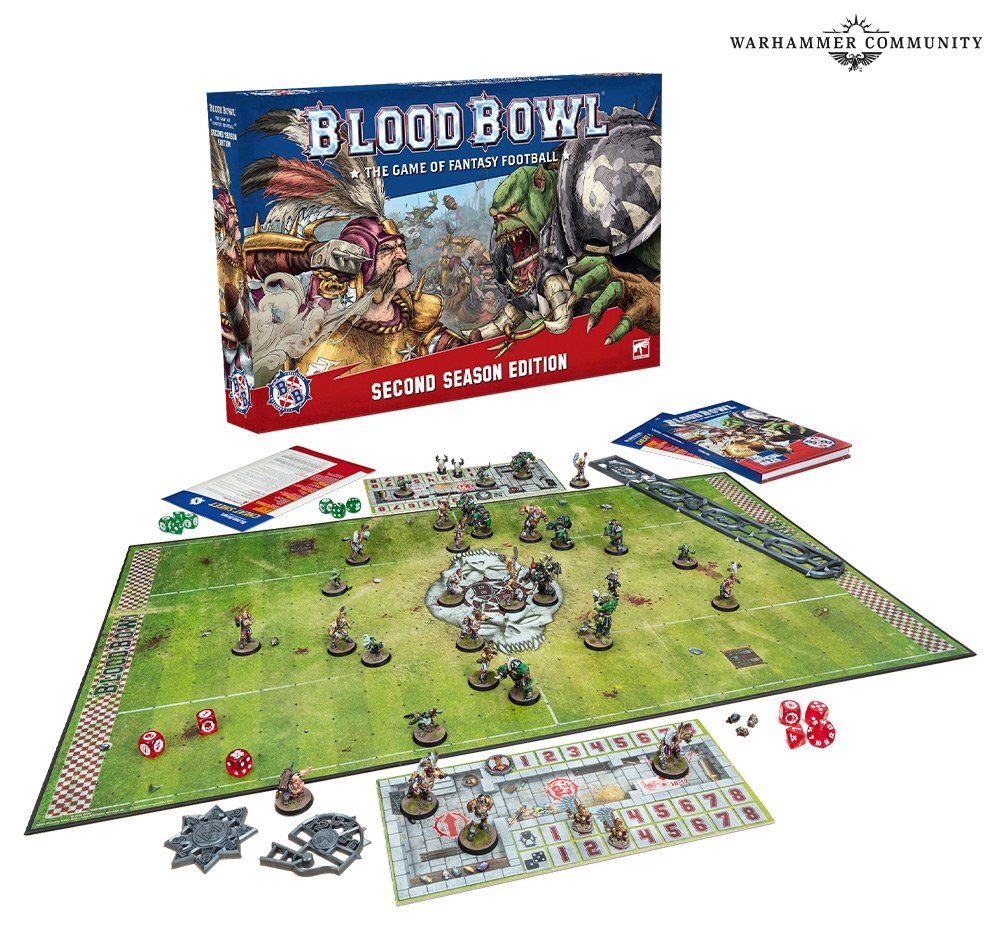 GW's sister company Forge World is releasing Zolcat the Zoat! We've looked at Zoats before and what their link is to Warhammer 40,000. Their appearance in GW's games has been rare, and they disappeared from lore for a long time, making a return with this year's Blackstone Fortress Deadly Alliance release. Quite what they are doing playing Blood Bowl is anyone's guess but we'll be keeping an eye on this one for sure.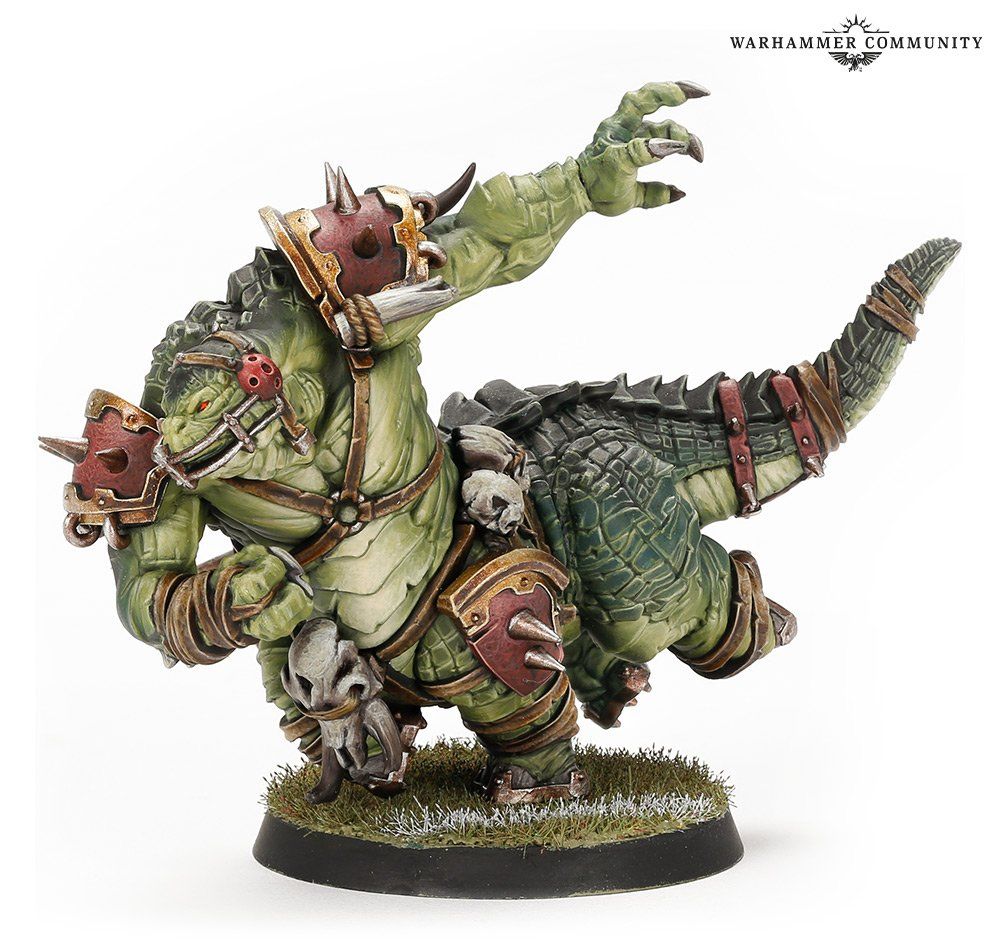 NEXT: Curse Of Strahd Revamped: Is It Worth It?
Source: Read Full Article