Hollow Knight: Silksong might not have made an appearance at the latest Nintendo Direct like many of us were hoping for, but a playtester on the game has given a small update calling it a "glorious game".
Earlier this week, Nintendo had its first Direct of 2023, giving us a look at Metroid Prime Remastered, Tears of the Kingdom, and Disney's Illusion Island, among other things. As is the case with pretty much every gaming showcase lately, Hollow Knight fans hoped to see any kind of news about Silksong during the event, which didn't end up happening.
We might not have got to see any news on Silksong, but the silence has been broken a little bit thanks to a playtester on the game. As reported by PC Gamer, Discord user Omnipotent God Graig shared a brief, but reassuring update on the Hollow Knight Discord, recognising that fans expected to see the game at the Direct, but saying that it'll be worth the wait.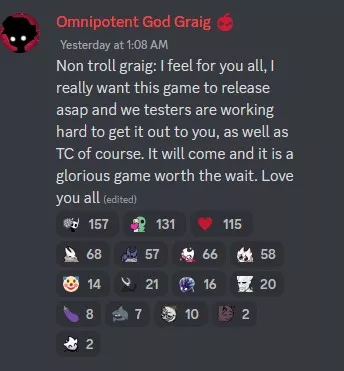 As pointed out by Twitter user Daily Silksong News, the playtester said, "Non troll graig: I feel for you all, I really want this game to release ASAP and we testers are working hard to get it out for you, as well as TC (Team Cherry) of course. It will come and it is a glorious game worth the wait. Love you all."
As for when we can expect to see Hollow Knight: Silksong next, it's not really clear as of right now. There are rumours of a PlayStation showcase this month, but Silksong seems to be a bit more closely tied to Xbox considering it's going to release day one on Game Pass, which makes it more likely to appear at one of Microsoft's conferences.
The best hint we have to go on is the fact that Microsoft previously said that every game shown during its Summer showcase would be released in the next 12 months, including Silksong. That would mean a release date of June 2023 at the latest, something that looks a little less likely as each month goes by.
Source: Read Full Article