The Owl House leak didn't happen, because I have a content plan of articles I intended to write, and I'll be damned if iTunes is going to stop me. Fans are already banding together to help stop unauthorised leaks from spreading ahead of the official release on January 21, and to my surprise, much of my social media has been largely bereft of major spoilers.
Good on them, since the crew deserve to celebrate this milestone with a proper release, not a dodgy file ripped off the internet because Disney was too incompetent to take action after the same thing happened to Amphibia a couple of years ago. It's been a mess, but our excitement remains at fever pitch as the middle chapter of these three specials draws closer.
Ahead of next weekend's episode – which I must reiterate definitely did not leak – I want to take a deeper dive at the promotional poster once again to figure out what character and story hints we can draw from art director Alex Garner-Flexner. The Owl House is turning each of these specials into a significant event, drumming up interest with small reveals and details that never give away too much, but provide fans ample ground to speculate upon. Just like we did with Thanks To Them, let's make a bunch of probably wrong guesses.
The Boiling Isles aren't completely destroyed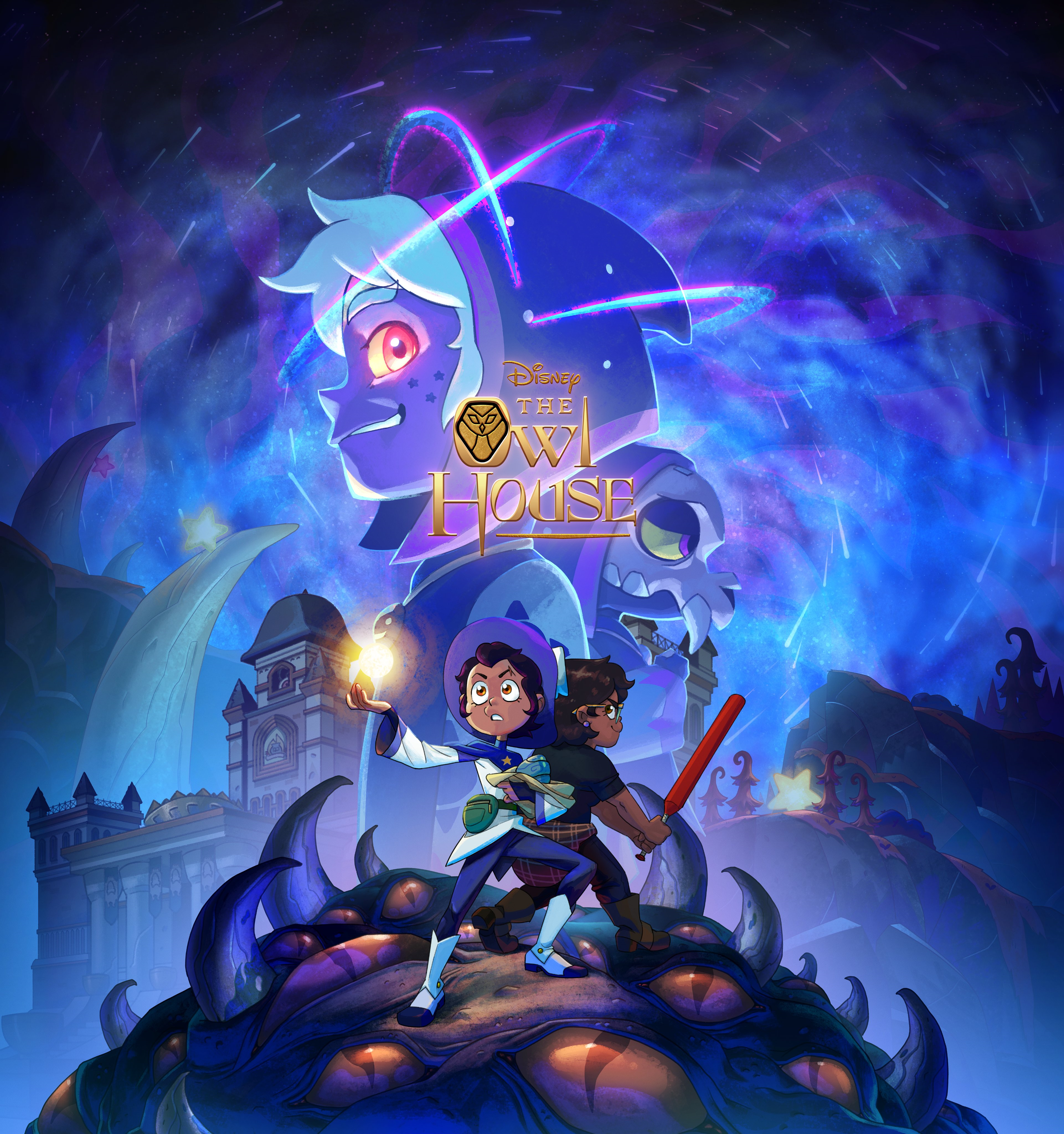 Luz and company left the Boiling Isles in a bit of a state. The Collector had seemingly begun to turn the realm into a cataclysmic ether of floating rubble and corrupt magic as our heroes made their escape. There was no indication if anyone was safe, with entire buildings, regions, and concepts being torn asunder to help heighten the stakes. It's a bad scene.
This is what made spending the entire first special in the human world such a masterstroke. We were given nothing to ponder on, left in the dark about the fate of certain characters and whether we'd ever make our return at all. Now we know that the Boiling Isles aren't entirely destroyed, and judging by a few locations in the poster, might be largely intact. I suppose you can't become the ruler of an entire world if you destroy everything right away.
Luz and Camila are ready to throw down
Camila Noceda left Vee to take care of the homestead as she stepped through the portal with her daughter. Instead of letting her face the demon realm alone, she picked up a metal baseball bat and went right along with it. Given all the startling revelations she's seen in the past few months, I have to commend her for being this much of an ally.
She's the best mom, and I hope there's a scene of her craning Belos in the back of the head with her trusty weapon before kicking the asshole while he's down. I'm also interested to see if she clashes or forms friendships with fellow parental figures on the show. To see her meet Eda, Raine, or even Odalia would be fantastic, even more so if she comes to empathise with them or question any shortcomings when appropriate. None of the parents in The Owl House are perfect, and I love how willing they are to critique such things.
Characters are sticking with their new looks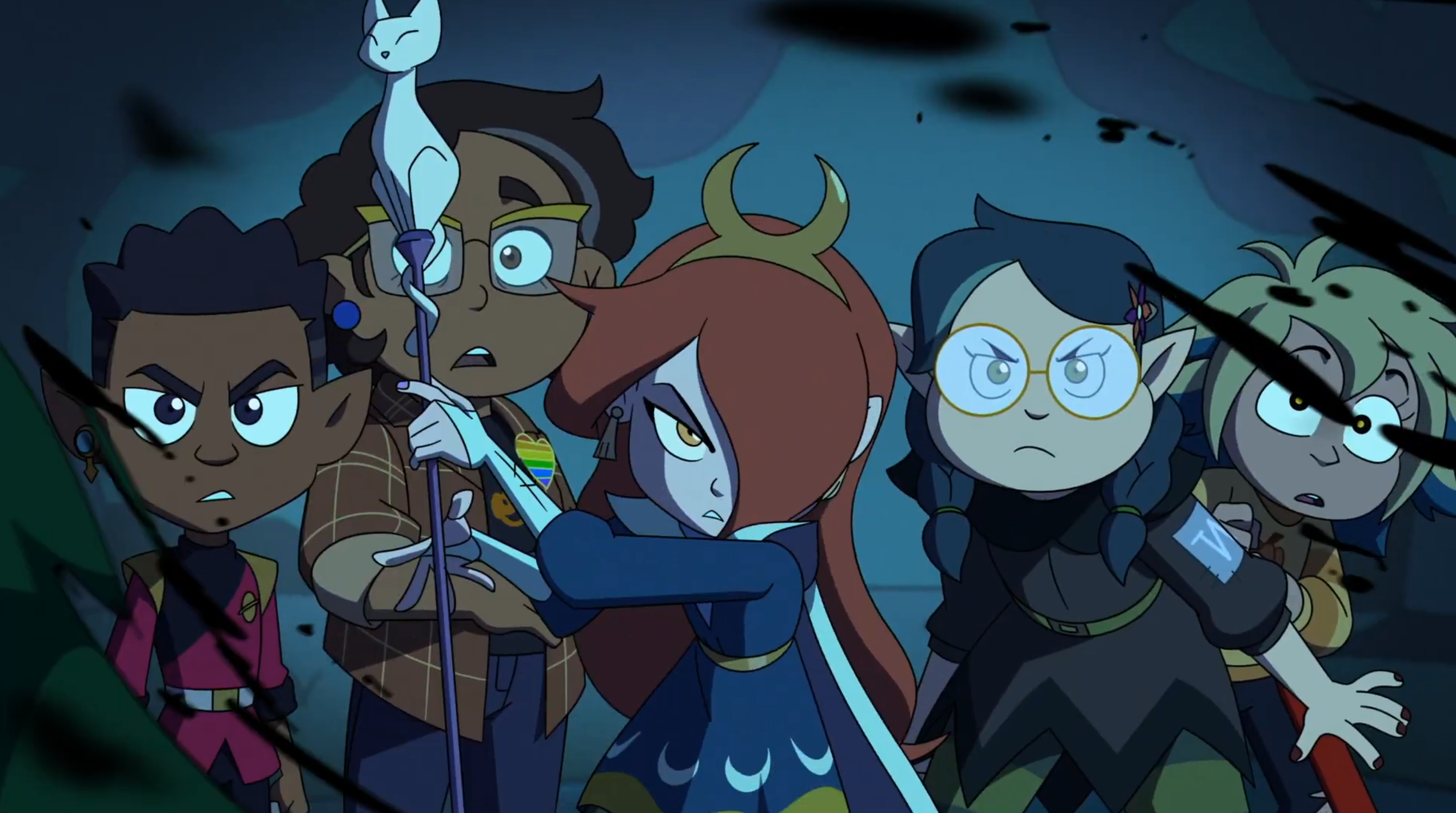 Luz has always aspired to become Good Witch Azura, and that lofty transformation is finally coming to pass in For The Future. What began as a Halloween costume of her beloved sapphic spellcaster has become a representation of her own progress, showing that she has grown enough as a witch on her own terms to not only replicate Azura's greatness, but fully surpass it. The poster features her donning the attire – pointy hat and all – as she wields a light glyph in one hand and her unhatched palisman in the other. It's also a representation of her late father, Luz carrying her love for him forward through a hyperfixation he helped bring to life from beyond the grave. It's touching, thematic, and appropriate. Camila looks fire too.
The Collector is front and centre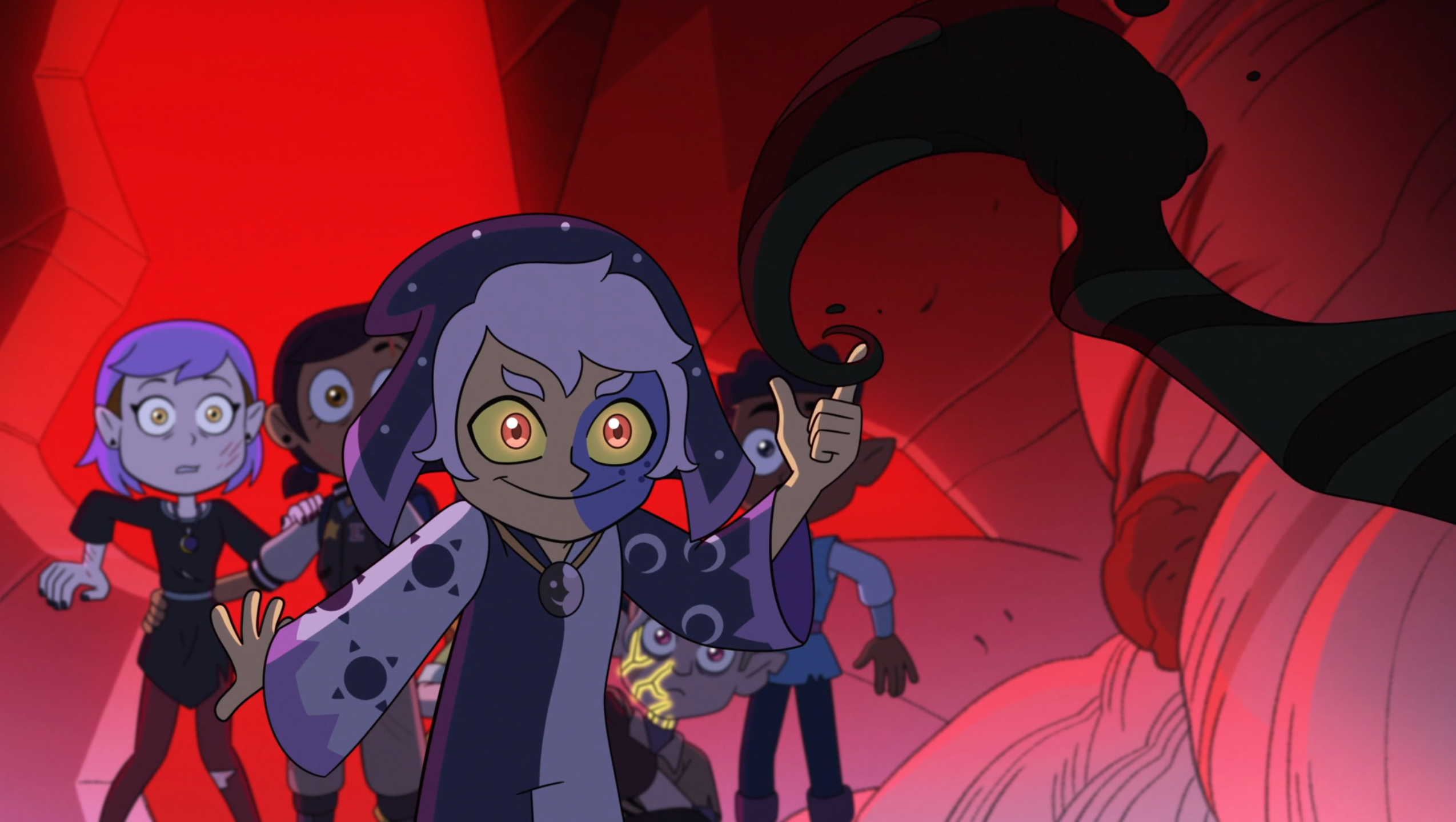 Pre-gremlin form aside, we haven't seen The Collector much since their debut. Except we didn't have to, since the few scenes he dominated were a comprehensive display of his personality and power, with them being capable of bending reality to their will in order to initiate a single game. Last seen almost erasing our main cast from existence and bringing King under his wing as an unwilling minion, I'm curious to see if The Collector will fulfil this claim of building an Owl House of their own. Chances are this will factor in the special, Flexner's poster has them sporting a wide smile as a series of swirling constellations and shining stars surround them. King is beneath, dressed in a similar hooded robe with a dejected expression on his face. He is subservient, and I won't be surprised if saving him becomes a prominent focus.
We're going back to Hexside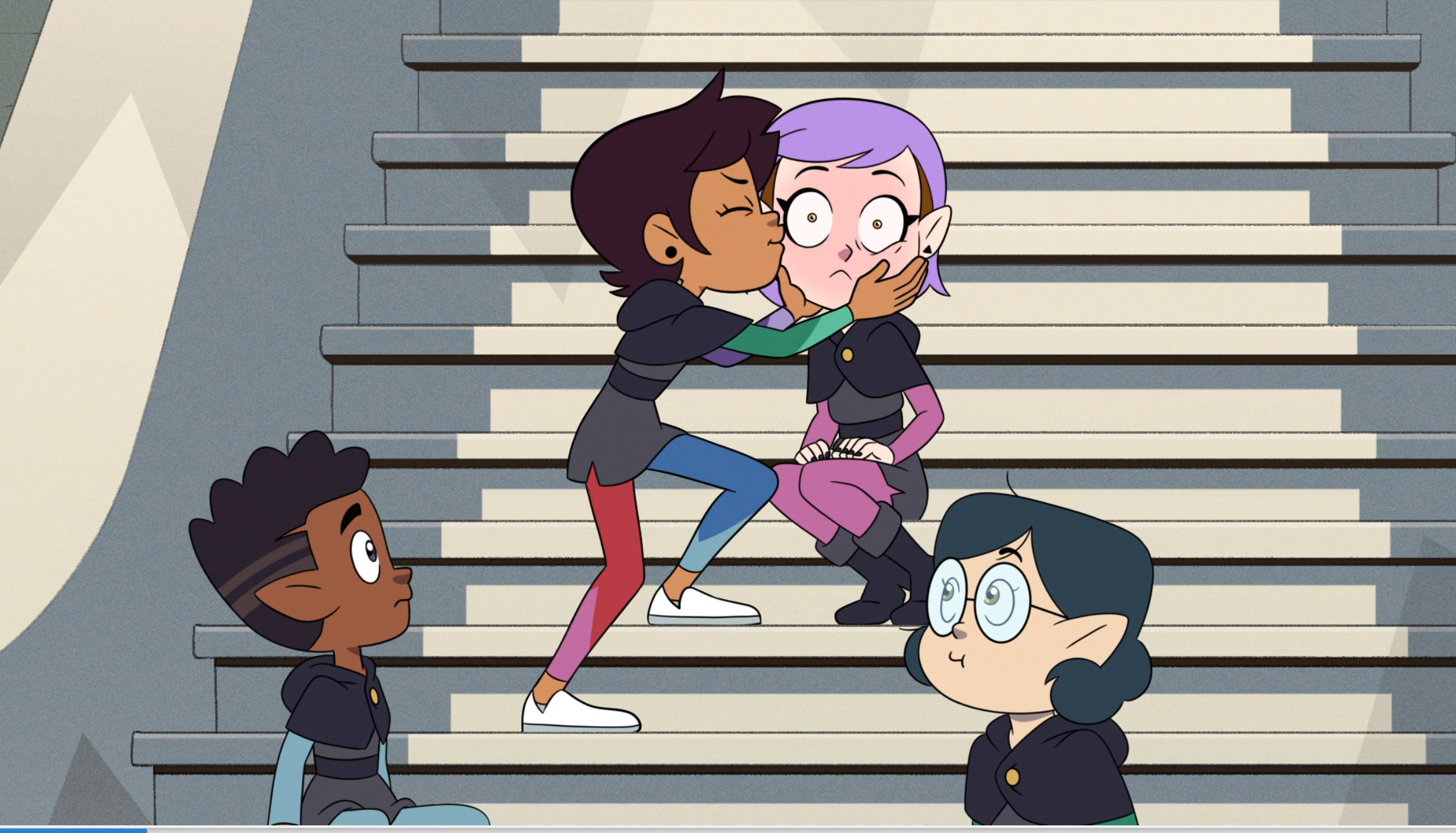 The universe might be collapsing into oblivion, but that doesn't discount the importance of a good magical education. Hexside is one of the few prominent locations in the poster, aside from the bulging beat Luz and Camila are standing on and the spiky remnants of a rotting titan. This leads me to believe that For the Future will give a number of the students and teachers we've come to love in this universe a chance to shine before bowing out for good.
Many episodes have been spent in this place, turning it into a diverse well of memorable moments and worthwhile character development The Owl House wouldn't be without. Given its history, perhaps a few secrets are hiding away within its hallowed halls that Luz will need to uncover if she hopes to best The Collector.
What's with all the stars?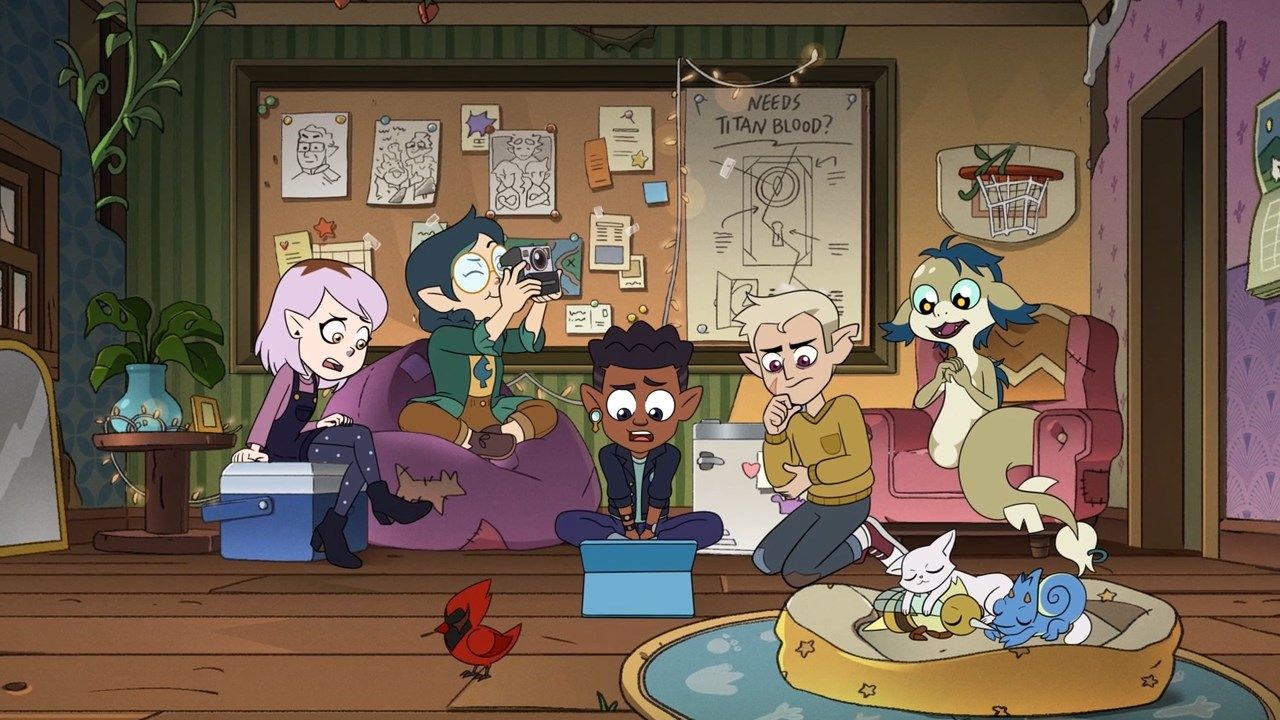 There are two of them, and I'm scared they're going to explode. I know The Collector is all about stars and space and stuff, so maybe these little signs factor into his greater plan. No matter what though, I don't trust them.
The Owl House returns to Disney Channel on January 21 at 9pm ET
Source: Read Full Article