Green Ronin Publishing recently announced the publication of its newest Chronicle System fantasy tabletop roleplaying game Sword Chronicle: Feudal Fantasy Roleplaying. The RPG sourcebook is available now in PDF form on the Green Ronin Online Store and on DriveThruRPG.
Along with the launch of the Sword Chronicle RPG came the announcement of the Chronicle System Guild community content program, designed by Green Ronin as an accompanying content creation house to assist us with devising "new characters, houses, settings, rules, and more" in the Sword Chronicle universe. The Chronicle System Guild community is being hosted over at DriveThruRPG, which is where you'll also find info on the Content Guidelines and FAQ page.
Sword Chronicle allows us to roleplay in a feudal fantasy realm centered around five fundamental tenets. First, instead of taking on the roles of "a rag-tag group of wandering adventurers, looking for justice, glory, and gold as you wander from place to place," we are all members of a noble house, which we create together cooperatively establishing its "strengths, weaknesses, customs, and even its favored symbols."
Next, social status plays an important part, even amongst our own party. Intrigue and clever convincing also play heavily here, with its own set of rules and tactics. Gameplay can happen on a variety of scales, ranging from solo to group to house (political) actions, and includes rules for individual combat and mass battles. Lastly, we'll be able to become royalty in the Shattered Era, with the Chronicle System's inclusion of a favored game mechanic from A Song of Ice and Fire Roleplaying Game.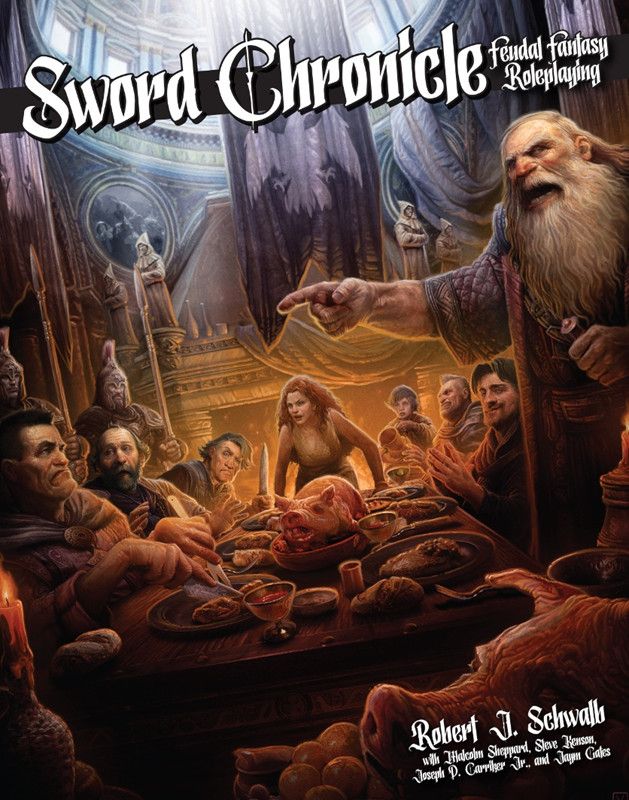 ICYMI, Green Ronin first announced the Sword Chronicles RPG back in June of this year, which had been going through stealthy development due to and during the COVID-19 pandemic. Since then, Green Ronin has published numerous blog posts on the website detailing the Sword Chronicle world and system mechanics. If you'd like to get a better understanding of what Sword Chronicle and the Chronicle System Guild are before buying, roll over to the Sword Chronicle: Questions Answered, Plus the Chronicle System Guild post for full details.
Green Ronin has also established a handy Chronicle System category on the blog that compiles the history of posts regarding the Sword Chronicles RPG. The category includes info on "what iteration of the Chronicle System Sword Chronicle represents" as well as the Shattered Era timeframe and the Breachlands location setting. There is also a post covering Sword Chronicle dropping the use of 'race' for the more preferred term Ancestries, and gives an example of how it's presented in-game with a sample dwarf character.
The PDF sourcebooks for the Sword Chronicle: Feudal Fantasy Roleplaying game can be purchased for $19.95 from the Green Ronin Online Store and from DriveThruRPG.
Source: Read Full Article