In The Sims 4 Seasons expansion, you'll find much more than just weather. Not only are there different world climates to bring depth to your game but there are other additions as well that add realism. One of these is the calendar system which is often overlooked.
The calendar not only gives you a sense of time in your game but also allows you to adjust the seasons, view a seven-day weather forecast, and plan holidays and events. For those will other DLC content it can also include information such as class schedules for University. Here's everything you need to know about how to get the most out of the in-game calendar.
Calendar Overview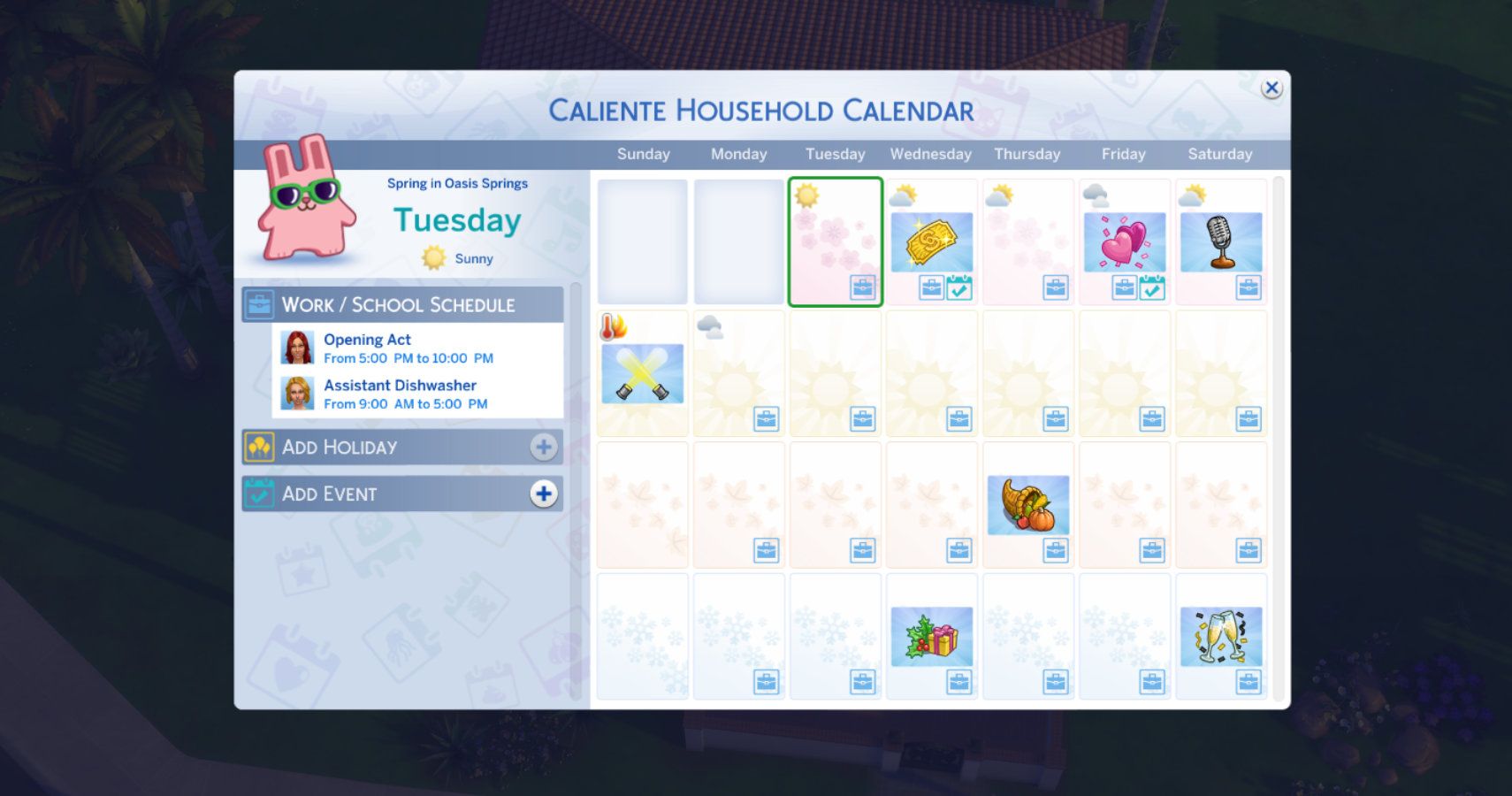 The game's default setting is for seven-day seasons and your calendar will look similar to the picture above. You can see the faint images of flowers, the sun, leaves, and snowflakes in the background of each day to represent the different seasons. If you extend the length of the seasons to two, three, or four weeks each in the options menu then these will change accordingly.
You'll also notice that the week you are on has icons to show you a seven-day weather forecast and the current day will be highlighted with a green box. Just like the real-life forecast, the weather predictions aren't perfect but are close enough to give you a good idea of what to expect.
Down the left-hand side, you'll see a summary of the current day. This will change each day to show the season, day of the week, weather, and any school or work commitments for that day. It also shows holidays and events.
Finally, the large icons represent the events themselves. As standard, the calendar includes Sim versions of New Years', Valentine's Day, Easter, Thanksgiving, and Christmas. There are also a few smaller holidays such as Lottery Day that will pop up as you play through the game.
Holidays And Traditions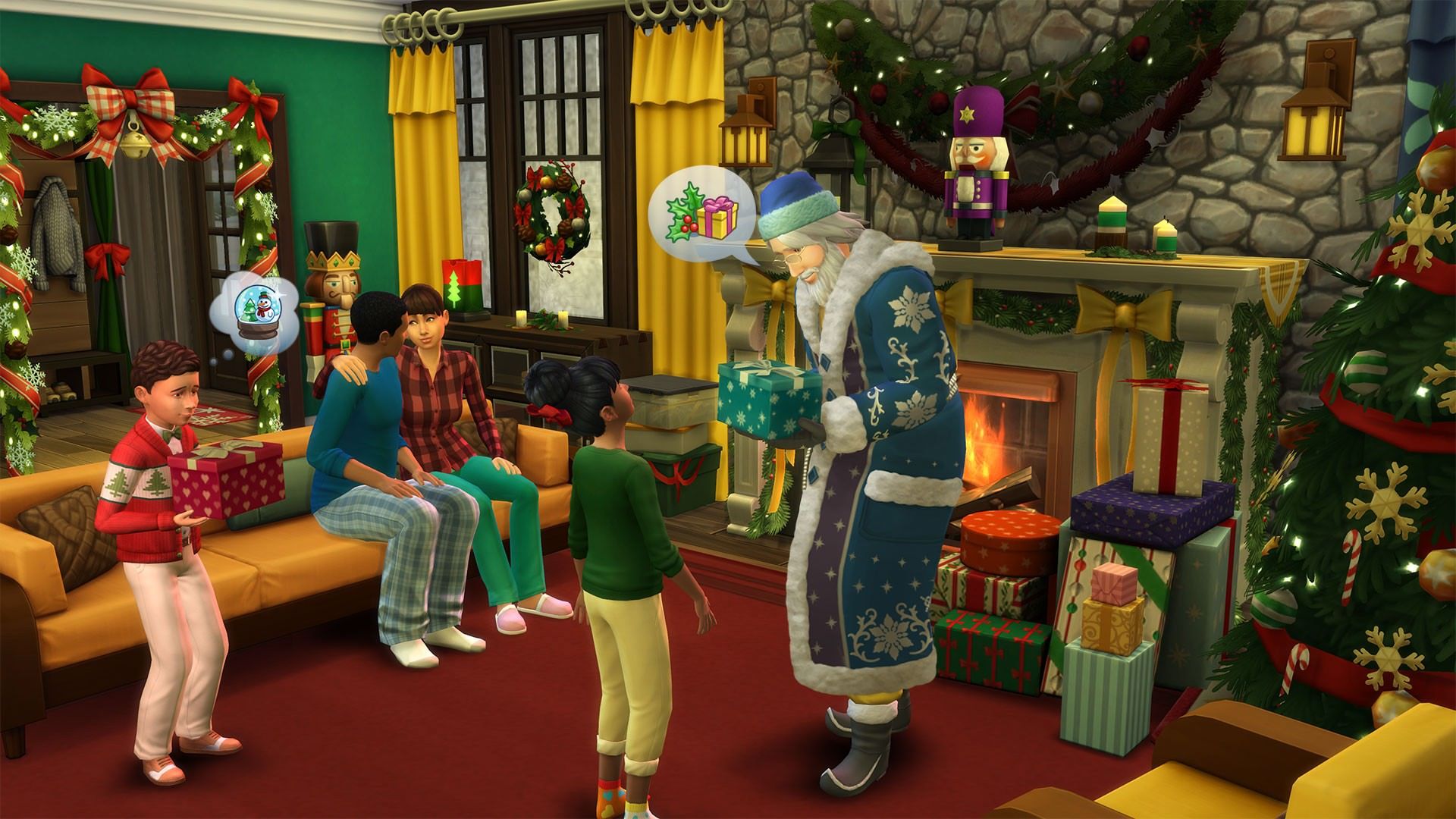 The calendar includes a range of holidays that you can edit or delete. You can also add your own to completely customize your experience. Every holiday can have up to five traditions associated with it and there are 41 in total. These range from holiday-specific options including a visit from Father Winter or the Flower Bunny, to more niche traditions such as streaking. You'll also find cultural and religious-inspired choices including fasting, attending a holiday ceremony, and lighting a Kinara or Menorah.
Holidays can be edited or deleted before they occur, meaning you can choose to remove any mainstream holidays you don't wish to celebrate and avoid racking up negative moodlets for ignoring them. The smaller holidays that pop-up can be deleted once they appear to prevent them from occurring again.
 Only one holiday can occur per day and you cannot have a goal-based event scheduled on the same day.
To add your own holiday simply click the add holiday icon on the left side of the calendar. When adding your new celebration you can name it, select an icon and decor theme, and choose up to five traditions to observe. You can also decide if Sims will have the day off work and school. The amount of traditions and options means you can create a huge number of different and unique days to celebrate.
Celebrating Events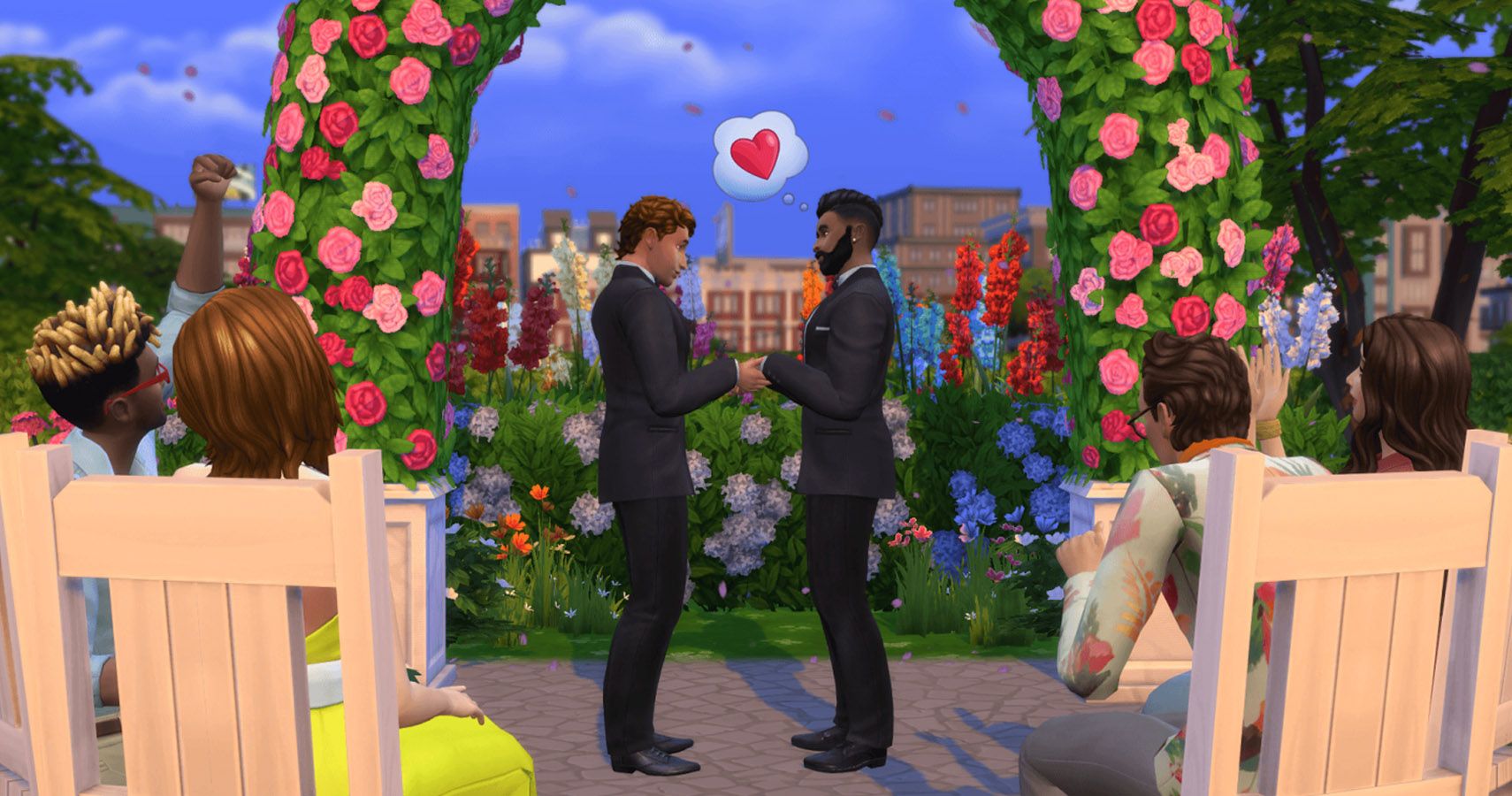 As well as adding holidays you can also add events. This is also done by selecting the relevant option in the calendar but utilizes the existing social event system, rather than the new traditions.
When you add an event the options include a house party, dance party, dinner party, birthday party, or wedding. Depending on the packs you own other options including spooky party, kava party, keg party, and toddler play date will also show up. You can even pre-schedule a mountain climb excursion.
Your event will be planned in the usual way, and you can choose if you want it to have goals or not. The only difference is that you'll need to select a time. Once this time comes around the social event will automatically start.
You can plan several events in a day but each new event will override the previous one. Events must be scheduled at least an hour apart.
The events system allows you to plan in advance for more frequent occurrences such as birthdays. You can also plan out parties, playdates, and even upcoming weddings. Your Sims social lives can be as realistic as you like and the ability to forward plan allows you to add everything at once.
Getting The Most Out Of The Calendar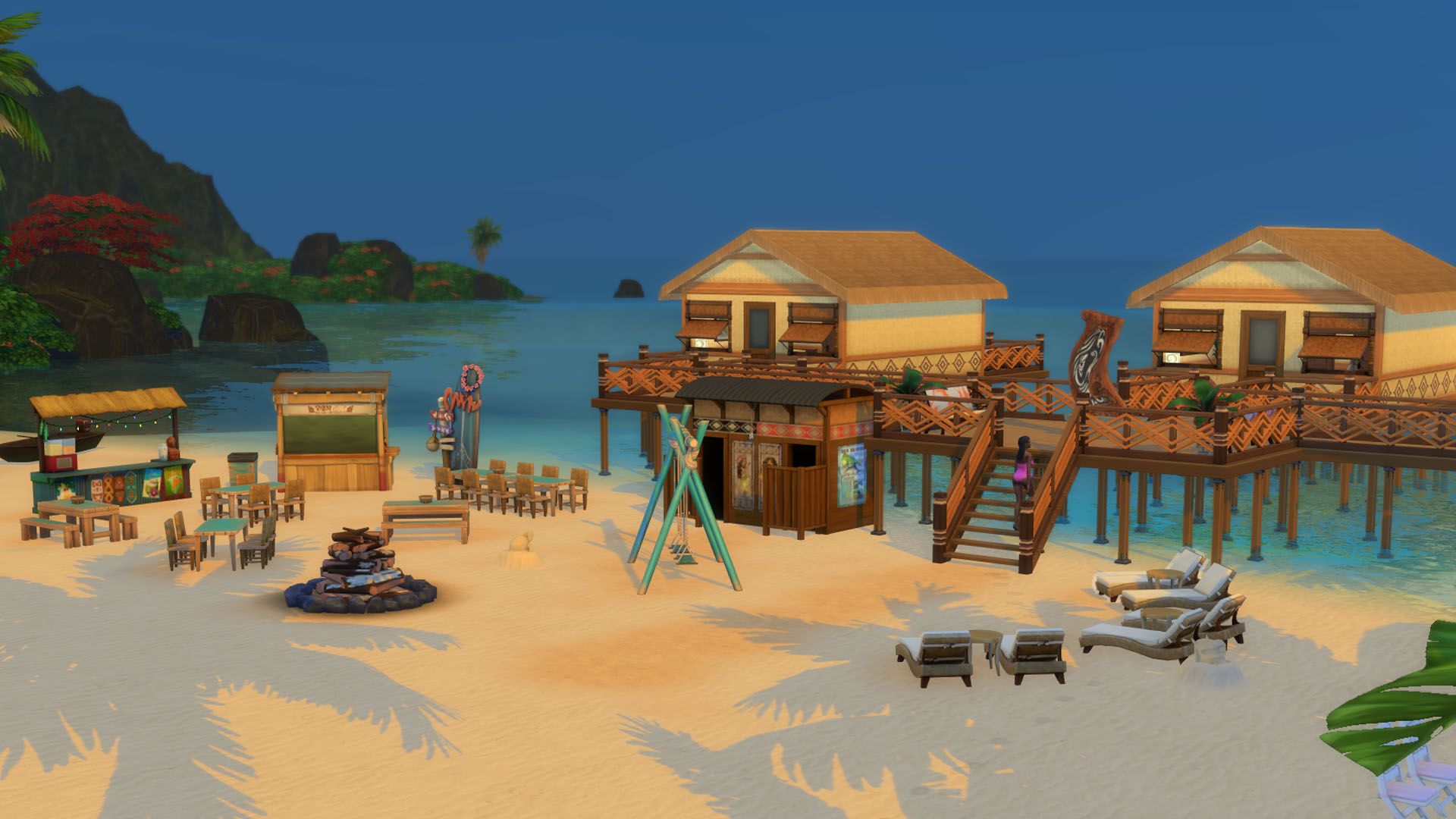 The calendar is incredibly flexible and you'll be able to do a lot with it if you remember to use it. Here are a few tips and tricks for things you can do with the calendar, especially if you play with longer seasons in your game.
Going on vacation is a tradition and scheduling this as a one-day holiday gives you a great moodlet boost to start your holiday. If you want longer off work simply add extra holidays into the calendar with either the same or no traditions and schedule them as days off. Any holiday which the calendar specifies comes with a day off will mean no one will go to work or school automatically.
Regardless of your aging settings, it can be difficult to remember birthdays. The calendar allows you to add them in advance so you'll never again get another sad moodlet from forgetting to throw a party. Keep an eye out for birthday coming soon notifications, or choose when to age up each sim.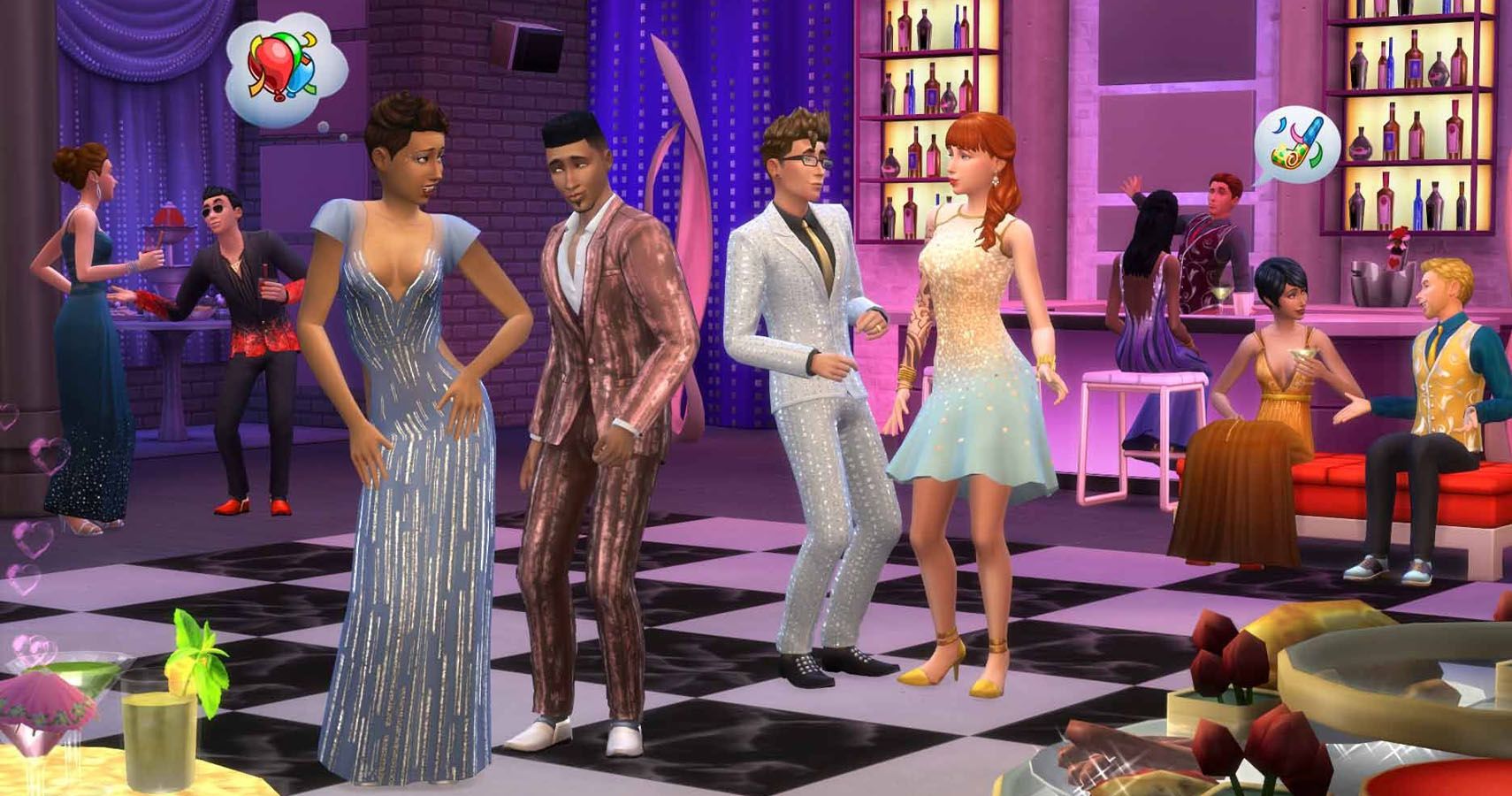 Does your family get together for an annual bbq? Or maybe you have a day of baking to prepare for the holidays? These and many more traditions can be added to your Sims calendars to bring real-life into the game.
While the game adds major holidays based on Northern Hemisphere seasons, because you can edit and delete them you can adjust this. If you want your holidays to reflect the Southern Hemisphere simply edit them up and away you go.
The calendar brings new depth and realism to your game and learning how to use it will especially benefit players who enjoy family and legacy gameplay. For those with multiple DLC, it can also help you keep track of events such as awards ceremonies. Cross-pack functionality continues to be added, making the calendar an increasingly useful tool. Taking the time to become familiar with it is well worth it.
Next: The Sims 4 – A Complete Guide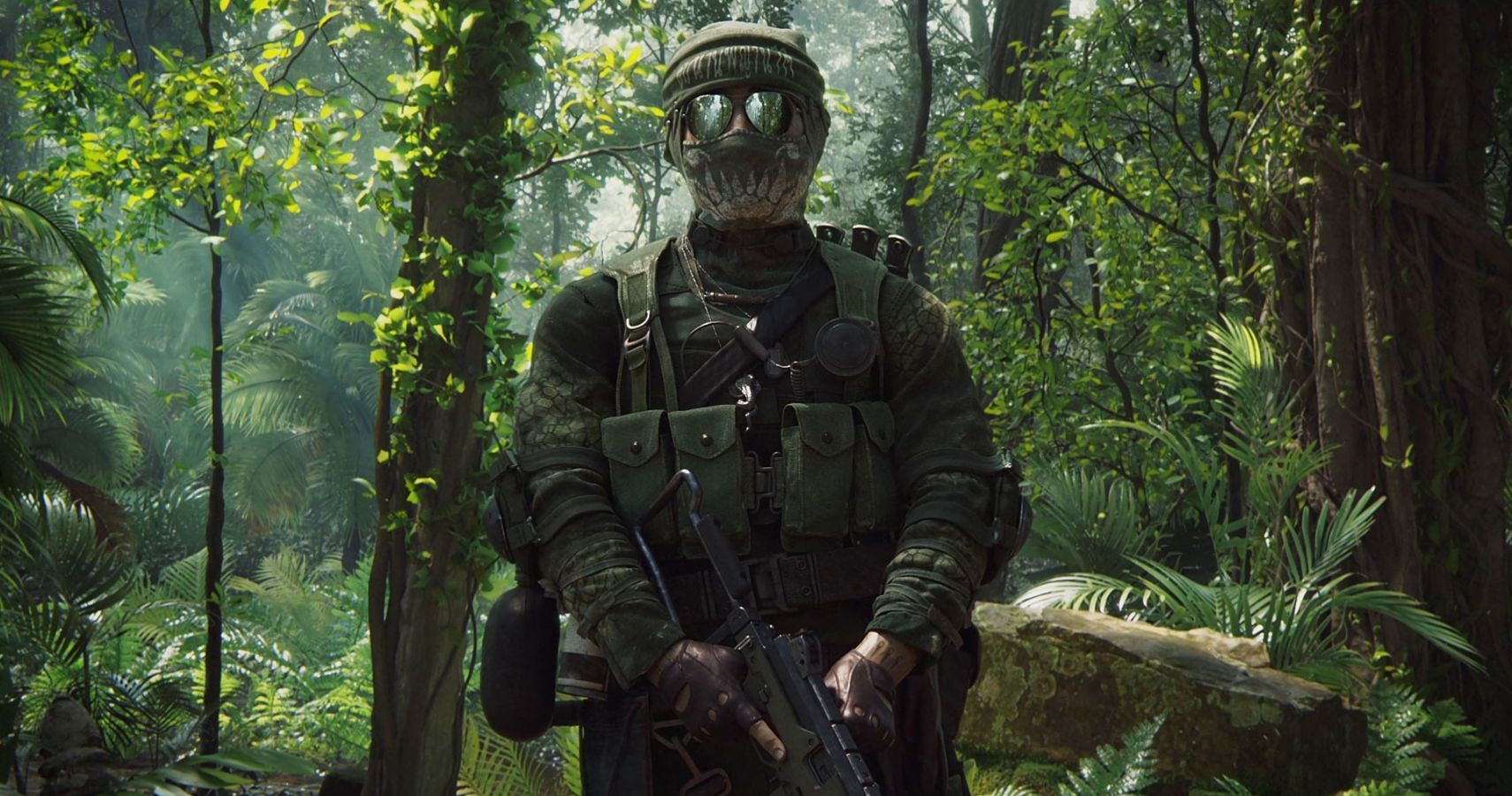 Helen began playing games at an early age with her first computer being a hand-me-down Sinclair ZX Spectrum. It didn't put her off… She is all grown up now but is still a gamer at heart, especially when it comes to The Sims and other strategy and simulation games.
She juggles the daily demands of life with a family and somehow still finds the time to indulge her two passions in life, writing and gaming; sometimes both at the same time.
Source: Read Full Article