When Apple Arcade launched in September 2019, it had a bold vision. Every game it featured was ad-free, mtx-free, drm-free (meaning no always-online games) and developed specifically for the service rather than the general Apple App Store. Apple Arcade got a lot of positive attention with launch titles like Grindstone, Sayonara Wild Hearts, Lego Brawls, Rayman Mini, and Exit the Gungeon, overshadowing Google's competing service, Play Pass, which launched just a week later. Apple Arcade has grown from 71 titles to over 200 in the last three years, but it hasn't been able to keep the same momentum it launched with. The Apple Arcade launch titles are still the best games available, and Apple has pivoted to converting old iOS games like Fruit Ninja and Threes! into the add-free, in-app purchase-free service. In 2020, Bloomberg reported Apple cut ties with some Apple Arcade developers in order to focus on a new strategy of player retention, but with each passing year the subscription service is showing fewer and fewer signs of life.
Meanwhile, the value of Google Play Pass has only increased. Since launching in September 2019, Play Pass has grown to include more than 460 curated titles. And while the Play Store has a reputation for being a lot more open to low-quality apps compared to Apple's App Store, the Play Pass library is packed with indie and triple-A ports, beloved mobile classics, and fascinating games worth discovering. Like Apple Arcade, there are no ads or in-app purchases in any of the Play Pass games. But unlike Apple Arcade, you won't have any trouble finding something new to play.
The Play Pass library has everything. If you're looking for something familiar, you'll find titles like Stardew Valley, Terraria, Dead Cells, Professor Layton, Limbo, Getting Over It, Knights of the Old Republic, and Monster Hunter Stories, just to name a few. All of these ports are frequently updated for new devices and play flawlessly. You can't expect good performance from every Android game, but the Play Pass games are all guaranteed to work well on modern devices. I've been playing a lot more games ever since I started subscribing to Play Pass because of how easy it is to pick up and play games on my phone compared to my Switch, which never seems to be charged when I need it. I own a lot of Play Pass games on other consoles, but my phone is smaller, lighter, and already in my hand most of the time anyway, so I just play them there.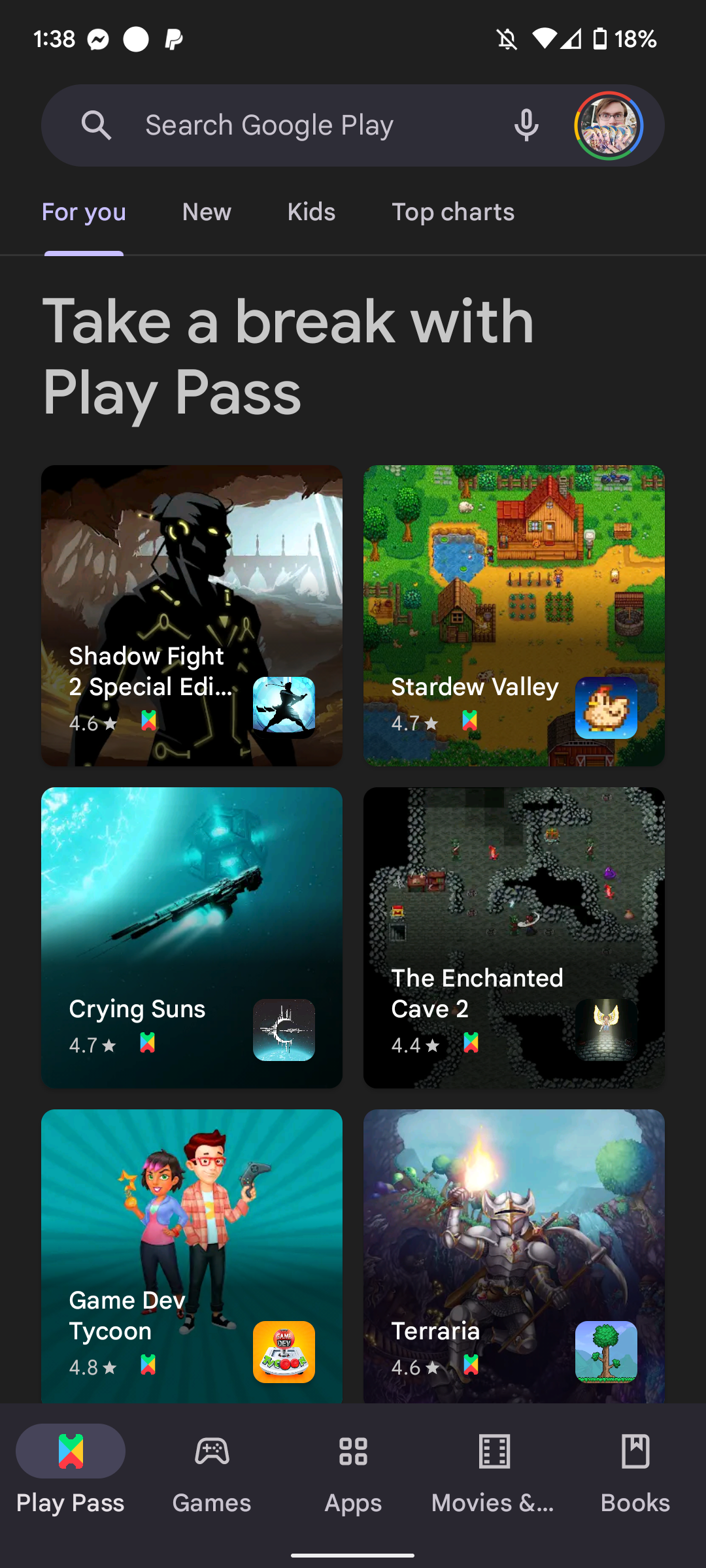 A number of games on Play Pass were packed with microtransactions and standard mobile game monetization when they first launched on Android, but all of that has been stripped out. My partner has spent a lot of time with Hamster Town, a puzzle game about delivering sweets to hamsters by drawing lines. Normally the game would pressure you to watch ads for premium currency or spend money to speed things up, but the Play Pass version blocks all of that. The button to watch the ad is still there, but now it just gives you the reward. It's like using ad-block to play games, and it's so satisfying at times that it almost feels wrong.
The biggest benefit of Play Pass, like Game Pass, is the discoverability. Mobile games are typically low-cost or free, but I'm far less inclined to gamble on something in the Play Store than something on Steam. With Play Pass, you can download dozens of games you've never heard of just to try them out, and because mobile games are often designed to be played in short sessions without much instruction, it's easy to play games for a minute or two just to see if they hook you. I've gotten deep into a few games I found on Play Pass recently, like Mini Metro, Pocket City, and OK Golf. The simple benefit of knowing that none of the games are going to suddenly spring a bundle or hidden cost on you makes all the difference, and does a lot of good for the reputation of the mobile game market.
Play Pass is only $5/month and can be shared with everyone in your family group. If you're burned out on Game Pass while you wait for Xbox to start releasing big games again, you might find a small game on Play Pass that's worth your time.
Source: Read Full Article